Missouri Would Likely Be Alone With 10 Percent Black Faculty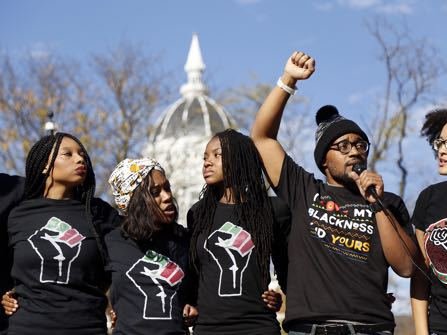 BUFFALO, N.Y. (AP) — If the University of Missouri succeeds in meeting a student demand for a faculty that's 10 percent black in two years, it will likely be alone among its peers.
No state's "flagship" public university campus had a black faculty population approaching that level, and only a handful topped even the 5 percent mark, an Associated Press analysis of 2013 federal data found.
The norm on most of the main campuses was a faculty that was between 2 percent and 4 percent black, the data showed.
Universities are well aware that staff and student bodies often don't match, administrators and experts say, and demonstrations and discussions around the country in recent days have driven home the point.
Fresh from a two-hour "listening session" Friday, University of Massachusetts Senior Vice Provost John McCarthy said students made clear the need for change.
"It was the biggest auditorium we have and undergraduates of color were standing up and talking about the fact that they need to see more faculty of color in the classroom, they need to see more faculty that look like them, they need to see faculty who are more familiar with their experiences as students of color," McCarthy said.
It's the difference between feeling understood and the pressure of being seen as representing a race, students and others said.
"There's a difference in the learning experience that you have when you're learning from someone you believe you can identify with more closely," said Micah Oliver, 21, president of the Black Student Association at the University at Buffalo.
Oliver, a senior, added, "The injustices that are happening in society aside, police brutality aside, those matters aside, I feel like I can learn from you better because you seem like somebody I can connect with on a personal level or on an experiential level."
Recent racist incidents, and the perceived lack of response by administrators, led to protests, a student hunger strike and a threatened boycott by the football team at the University of Missouri, where student demands now include a call for increasing the percentage of black faculty and staff to 10 percent by the 2017-18 school year.
A group of former minority faculty members sent a letter Monday to President Michael Middleton supporting the students. It citied their "experience related to being racial and ethnic minorities on a predominantly white campus."
Like Missouri, the percentage of black faculty members at the vast majority of main campuses in each state's public university system was generally well below the percentage of black students enrolled, the AP review found.
At a number of schools, the percentage of black faculty was close to or below half the percentage of black students, notably at schools in the South with both relatively large proportions of black students and faculty.
The school with the largest percentage of black faculty, the University of Mississippi at 6.29 percent, also had the largest percentage of black students, 15.26 percent. The University of North Carolina at Chapel Hill has a faculty that's 6 percent black, compared to 8 percent of the student body. The University of Alabama's faculty is also 6 percent black, but the proportion of black students is higher at 11.46 percent.