The 11th Annual A3C Hip Hop Festival and Conference is back: 6 Things You Don't Want to Miss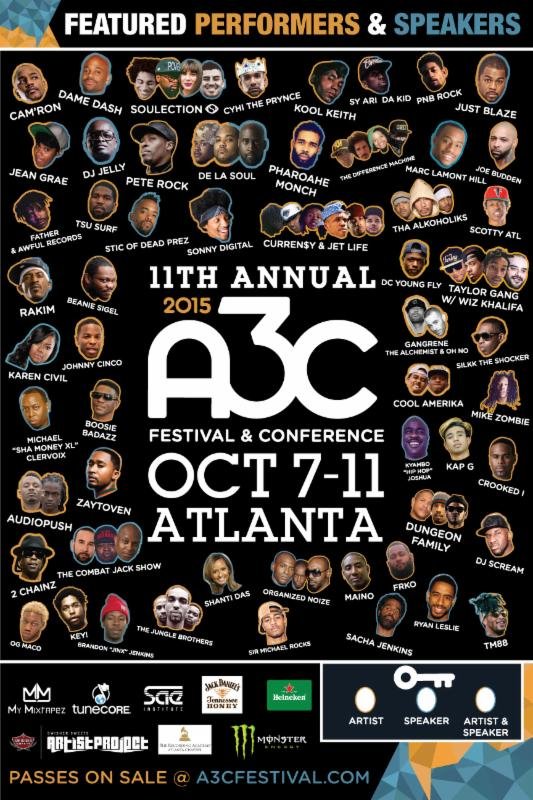 A3C is vastly approaching but just incase you've just heard the buzz and now you want to learn more about the festival, here is the run down. A3C is by far one of the biggest Hip-Hop movements in the south and is on its 11th year of bringing some of the hottest underground and influential artists in the game to Atlanta, GA. The Hip-Hop's Annual Pilgrimage is not just one of your typical conference, A3C is jam packed with beast networking opportunities (for producers, rappers, the whole squad), informational panels and shows (of course), it is a celebration of film, art, style, and a plethora more all surrounding the vibrations of hip-hop. From hip-hop garb to short films and just being amongst the energy of the festival is an experience in itself-- you never know who you will run into. You may even get a chance to get some free stuff here and there. A3C has many partners including: The MyMixtapez, Heineken, Jack Daniel's, Monster Energy, Swisher Sweets, TuneCore, iHipHop Distribution, Mail Chimp & SAE Institute, ASCAP and many others.
If you are planning to attend A3C October, 7-11, 2015, officials just blitzed some news on 6 events you do not want to miss!
A3C Rap Battle: Don't Flop Ent.
One of the dopiest festivals I've ever attended recently partnered with UK's top Rap Battle League, Don't Flop Entertainment, to stage 5 amazing battles in a major way including: Big T vs. Caustic, Marv Won vs. Uno Lavoz & Cortez vs. Brixx Belvedere.  Saturday, October 10, 2015 from 3:00-6:30p.m. at Music Room.
6 Muralists on Live Art Stage
Hip-hop an art goes together like Timberland and Magoo! There will be 6 amazing muralists creating on-the-spot live art at A3C's Festival Grounds while artists do there thang on stage! Their canvas will be Swisher Sweets (yep, that's right) on the Live Art Stage. You can catch the muralists live on Friday, Oct. 9, 2015-Sunday, Oct 11, 2015 at the Festival Grounds.
X Spaces: A3C Edition
A3C is bringing together over a dozen crazy-talented artists to share 330 Terminus for the two day event series at X Spaces.  Artists on the roster: Paper Frank, FRKO, Diwang Valdez, Jay Shells, Brainfood, Bongang, Fabian Williams and many more!  Friday, October 9, 2015 & Sat, October 10, 2015 at 3:30 Terminus (yeah, no zombies here though like AMC's The Walking Dead, ha-ha).
Distorted Art Party
Philadelphia-based Pop artist and animator, Distortedd, is bringing her stylistic street-edge and eclectic art to A-T-L. The spot will be blazin' with hot DJs, live music and original pieces on display. Catch this event on Thursday, October 8, 2015 from 11:30p.m.-2:30a.m. at Space 2.
De La Soul vs Player 1
One the hottest hip-hop trios to do it, De La Soul will be going against all challengers who believe they can beat Maseo, Dave & Pos in some classic video games. Interesting, will it be you? Saturday, October 10, 2015 from 2:30p.m.-3:30p.m. at Joystick Gamebar.
Jet Lounge A3C Edition
"Don't miss this jet..... Jet life to the next life!" Yeaaah--If you frequent New Orleans Foundation Room on Wednesdays at the House of Blues or have had the opportunity to experience the Jet Lounge during the SXSW Festival, you know what time it is. Curren$y and the Jet Life crew are going to grace the A3C with another dope edition of Jet Lounge. The show will take place Saturday, October, 10, 2015 from 10-2p.m. at Harlem Nights.

Stay hydrated, bring a light sweater, wear comfortable shoes, arrive early to spots you know will require parking at a distance (if you choose to park free), get a realist tentative schedule together (just know you cannot make everything but have a plan B), bring mental preparation for the fact you won't want to sleep during the entire festival!
It's not too late to get your passes, purchase your 2015 A3C Festival and Conference tickets, here.