H-E-B Takes Texan Taste Buds on a Tour of Italy with Statewide Launch of Ciao Italia in More Than 300 Stores
Italian Trade Agency Partnership Brings Authentic Italian Items to Texas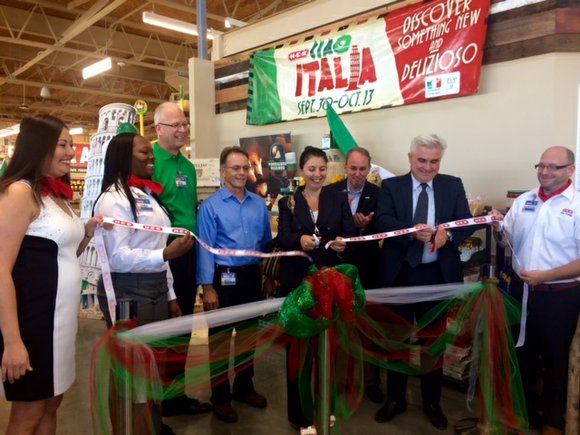 (HOUSTON, TX) — In its continued commitment to providing customers with a diverse and high-quality assortment of products, H-E-B has partnered with the Italian Trade Agency to bring more than 3,000 authentic Italian imports to more than 300 H-E-B stores across Texas. Products will be showcased during the companywide 7th Annual Ciao Italia event happening in stores until October 13. Today, H-E-B officials were joined by Italian Trade Agency Commissioner for Houston, Dr. Carlo Angelo Bocchi and Italian Consul General in Houston, Elena Sgarbi for a tour of H-E-B San Felipe located at 5895 San Felipe (at Fountainview).
"We are honored to partner with the Italian Trade Agency to expand our unique offerings to customers across the state of Texas," said Jody Hall, H-E-B Director of Global Sourcing. "With these specialty products, customers will be able to make that memorable dish they had on vacation, or prepare an authentic Italian recipe with affordable ingredients, straight from the source."
Leaders from 14 Italian companies have sent executive ambassadors to Texas to personally demo their products in six H-E-B stores including H-E-B San Felipe on Friday October 2, 2015.


From homemade pumpkin pasta sauce and red and yellow date tomatoes, to Sicilian olive oil produced by a 99-year-old family-owned business – Ciao Italia offers an array of distinctive, innovative and authentic Italian products for Texans to enjoy.
"Over the years, we have found Texas to be a prime market for authentic Italian products," said Maurizio Forte, Italian trade agency commissioner. "As the largest food retailer in the state, H-E-B is an excellent partner in helping us bring unique products straight from Italian businesses to the state of Texas for customers to enjoy."
Examples of products included in the Ciao Italia Launch include:
· H-E-B Fresh Filled Pastas are sourced from what is believed to be the oldest manufacturer of filled pastas in the world. The H-E-B supplier was first established in Bologna in 1882 and won a gold medal at the 1884 World's Fair in St. Louis.
· Grana Padano, Parmigiano Reggiano and Asiago cheese from Agriform in the heart of Po Valley in northern Italy. Agriform produces, matures, packages and markets typical cheeses from the Veneto region and other Italian regions.
· Così Com'è pasta sauces and whole tomatoes (Yellow Datterino, Red Datterino and Pizzutello) all harvested by hand, packed in glass and imported from southern Italy near Salerno. In Italian, Così Com'è translates into "the way it is."
· Following centuries of authentic tractions, H-E-B imported balsamic vinegars are made from grapes grown in the Emilia Romagna region of Italy. The longer the vinegar ages, the better the quality.
In honor of the two-week celebration, H-E-B stores will feature a selection of these products in upcoming meal deals, live in-store cooking demos, combo locos and more. Customers can also enter into the Ciao Italia sweepstakes online from September 30 to October 13 for the chance to win a Fiat 500, a trip for two to Italy or a Vespa LX 150. Official rules and entry requirements can be found at www.heb.com/italy.