Astros to Host Official Watch Party at Plucker's for Tonight's Wild Card Game
Fans encouraged to arrive by 6:00 p.m.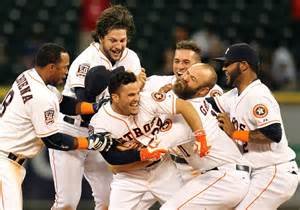 HOUSTON, TX — The Houston Astros are hosting an official watch party for tonight's American League Wild Card Game vs. the New York Yankees at Plucker's Wing Bar, located at 1400 Shepherd Drive. Fans are encouraged to arrive around 6:00 p.m., an hour before tonight's 7:08 p.m. CT first pitch, as space is limited. Tonight's game will be broadcast exclusively on ESPN.
The Astros are starting left-handed ace Dallas Keuchel tonight against the Yankees Masahiro Tanaka. Houston finished the regular season one game behind New York in the Wild Card race, with the Astros taking the season series from the Yankees, 4-3. The winner of tonight's game will advance to the American League Division Series and take on the reigning American League Champion Kansas City Royals.
For more information about tickets for potential postseason home games played at Minute Maid Park, please visit www.astros.com/hustletown or call 1-877-9ASTROS.