LOVELL'S FOOD FOR THOUGHT – CAN DO HOUSTON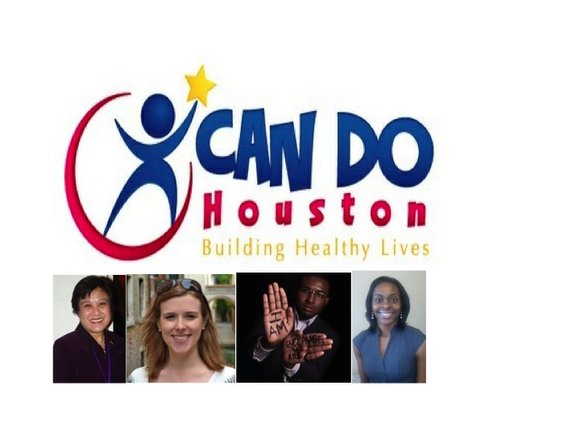 After Men's Fitness magazine named Houston the "Fattest City in America" in 2005, Mayor Bill White initiated the Mayor's Wellness Council (MWC) to encourage and motivate Houstonians to make wise choices regarding healthy eating and regular physical activity through education and participation in fun activities. To sustain this vision, in 2006 the MWC created the Houston Wellness Association (HWA), a nonprofit association to engage businesses and the wellness industry in efforts to increase the wellness of all Houston citizens. In 2007 two taskforces were created, one formed by the Houston Wellness Association (HWA) and the other formed by the Mayor's Wellness Council. I had the pleasure of chairing the Mayor's Taskforce on Childhood Obesity. Christine Mei was my counterpart on the one formed by the HWA. When I asked about funding for the childhood taskforce, the response I got was something like, Lovell you are a creative individual. Fortunately, for me, I was director of the congressionally mandated Center for Research on Minority Health (CRMH) at the University of Texas M.D. Anderson Cancer Center. I also realized that there were funds out there. They just needed to be redirected and brought together. I also knew that I needed to involve the other taskforce.

Our first step was to create a team to bring all of the various entities together. The CRMH already had a Community Relations Core staffed Dr. Beverly Gor. With Beverly assigned to this project, we then were able to involve Dr. Nancy Murray, a faculty member at the University of Texas School of Public Health. Dr. Murray had funding from the NIH Center for Clinical and Translational Sciences grant (https://www.uth.edu/ccts/can-do-houston.htm) to address childhood obesity. From Dr. Murray, we were able to get the assistance of Nancy Correa. With that, the team was formed. Our goal then was to develop a comprehensive strategy to halt the increase in overweight and obesity among children in Houston/Harris County.

To address this goal, we leaned heavy on the biopsychosocial or holistic approach developed by CRMH. An approach based on all of the CRMH efforts around addressing health disparities Today, some would refer to this as a trans-disciplinary approach. However, to us, it involves more that a multitude of disciplines, it truly involves the community as equal partner. William (Bill) Baum termed it as "Building inside out, so that communities become the ultimate project owners."

For years we have known that a comprehensive approach, involving schools, parks, health departments, community programs, families, and healthcare practitioners would be the only way to address childhood obesity. However, the question that continued to arise was why were these efforts, for the most part, continuing to fail to demonstrate long-term community-wide reductions in childhood obesity rates? One of the reasons we felt was that most, if not all, of these programs were based on outside funding and very little community ownership. What we termed as "parachute science". Funding that eventually went away without anything to replace it and therefore the efforts went away.
When we launched our efforts we had no real designated grant funding or funding of any kind other than to support Beverly and Nancy, and that was borrowed funding. In the end, it became our greatest asset; for we were forced to seek initial funding from within and truly engage the community. And when we applied for funding, the community knew that it was a gamble. But building such strong partnerships and support from within, especially with direct and upfront community involvement may this truly work, even though it was time consuming. In doing so, it significantly increased the chance for community trust, community ownership, and the relevance of the intervention to ensure it was within the context of the community needs. That is what Children And Neighbors Defeat Obesity; la Comunidad Ayudando a los Niños a Derrotar la Obesidad - CAN DO Houston is all about. With such came a real mission to prevent and diminish childhood obesity in the Houston metropolitan area through physical activity, nutrition, and healthy minds by enabling the broadest collaboration of individuals, institutions, organizations, and local government.
CAN DO Houston initially began in August 2008 in two Houston neighborhoods including one park, one elementary school, and the surrounding community. Our partners had money to fight childhood obesity, but they were doing it as separate entities. CAN DO Houston brought them together as one fighting force. This did not mean that our partners could not do other things, but with these neighborhoods, we would be one. We engaged with communities, coordinated with local organizations, and leveraged existing resources to implement a community-based childhood obesity prevention imitative in the two low-income neighborhoods. Based on direct input from the community, we coordinated various activities to promote healthy living including: after-school programs, grocery store tours, wellness seminars, cooking classes, and staff wellness clubs.
Once we launched CAN DO Houston pilot and delivered what we initially promised to these communities, we realized if we were going to grown and become sustainable we needed to document what we were doing. I want to stress hear the deliverable to the community and not the publication as a deliverable. That led to the article in Preventing Chronic Disease - CAN DO Houston: A Community Approach to the Prevention of Childhood Obesity (Correa et.al, 2010 (http://www.cdc.gov/pcd/issues/2010/jul/09_0184.htm)).
Over the past seven plus years, we have been fortunate to have a truly dedicated staff in the CRMH and the UT School of Public Health. This was another crucial aspect of CAN DO Houston success. These individuals helped to maintain CAN DO in lean times, while continuing to contribute to its grown, starting with Dr. Beverly Gor, now with the Houston Health Department, and Nancy Correa, now Director, Center for Parenting and Family Well-Being, then Niiobli Armah, now Managing Director at WE-COLLAB and our current Executive Director Dr. Jasmine Opusunju. All of these individuals, as well as our Board of Directors, have led to the tremendous success of CAN DO Houston. I was also say that we would not be were we are today, if it had not been with funding through Healthy Kids, Healthy Communities (HKHC) and the help from our numerous partners—including the city's parks, health and human services, schools and universities, and the Center for Research on Minority Health at M.D. Anderson Cancer Center.
So what has taken place after the four year HKHC initiative? Remember the word sustainability!!! Let me also mention the need for a small group of thoughtful, committed people. One of the unique features of CAN DO Houston is the fact that we had that group who started with community involvement upfront. They did not approach the communities with funding or plan already in place. The platform was based on a willingness of people to come together for a common cause. It was the willingness of people to share their merger resources and dedicate their time because it is theirs. It was about trust and ownership.

Almost a decade later, still with very little direct money, let me point you to the following links to see some of the successes of CAN DO Houston. If I were to write it all out it would take me more pages than I have space to list and describe. So let me refer you to our web page (http://www.candohouston.org/) or that on HKHC (http://healthykidshealthycommunities.org/communities/houston-tx). However, one of the things that have plagued CAN DO Houston is the lack of awareness of its successes both in Houston and outside of Houston. I am hoping that with the new story on Channel 39 in Houston (http://cw39.com/2014/09/26/fighting-childhood-obesity-one-neighborhood-at-a-time/), and now with the USA Today article (http://www.usatoday.com/story/news/nation/2015/09/29/houston-tries-slim-down-food-fitness/72756826/ ) and video (http://www.usatoday.com/videos/news/health/2015/09/29/72738542/), CAN DO Houston had turned that corner.
Finally, for me personally, it is truly gratifying to see what CAN DO Houston has grown into and what it has accomplished. To seeing ones idea flourish and making a difference in people's lives, there are no words for that. From Beverly, to Nancy to Niiobli and now Jasmine, the torch has been passed and I can only see great things for CAN DO USA. As my mentor once said to me, "one's legacy to science is not the work that you do, but the people you leave behind."