5 Things to Know for Your New Day -- Wednesday, October 7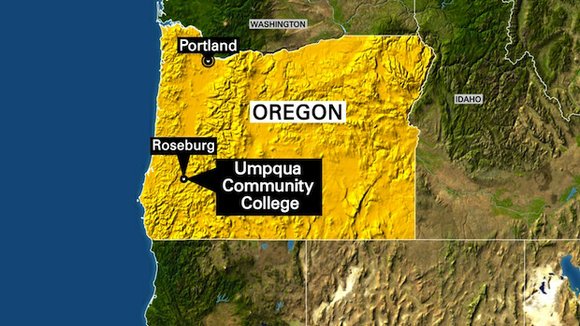 By Doug Criss
CNN
(CNN) -- South Carolina is still suffering. Questions swirl in El Faro sinking. And lots of inmates are about to be freed.
It's Wednesday, and here are five things to know for your new day.
OREGON SHOOTING
Writings: The gunman in the Oregon college shooting had a developmental disorder, and his mother railed against gun control. That's the information that can be gleaned from online postings reportedly made by the killer's mother. Laurel Harper, in postings on Yahoo and other sites, blasts states with strict gun laws and says that both she and her son have Asperger's syndrome, considered to be on the high-functioning end of the autism spectrum. Police are aware of Harper's postings and said she's part of the investigation, just like anyone else close to the gunman.
SOUTH CAROLINA FLOODS
Suffering: The sun came out in South Carolina yesterday, but the state's water woes are far from over. Dam breaks are still a concern. Residents in hard-hit cities like Columbia may be without running water for days. Miles of roadway are either damaged from the floods or closed. Oh, and some rivers still haven't crested yet. Gov. Nikki Haley said yesterday that although the sunny weather was a "good sign," the state still needed to be cautious. "The next 36 to 48 hours are going to be a time that we need to continue to be careful," she said.
SUNKEN SHIP
Questions: Why was the cargo ship El Faro out in the middle of the Caribbean when a hurricane was roaming about? That's the question the owners of the now-lost ship were asked -- repeatedly -- yesterday during a news conference. They said the ship's captain had a "sound plan" to avoid Hurricane Joaquin. But when the ship's main propulsion failed, the El Faro was left stranded in Joaquin's path. So far, no survivors from El Faro have been found.
RIO
Unsafe?: Headed to Rio to enjoy fun in the sun? Better leave your wallet at home. Swarms of young thieves have swept through the city's more popular beaches grabbing cell phones, wallets and whatever else they can grab and take off with quickly. Security has been increased, but still, with just 10 months to go before the Summer Olympics kick off, many wonder if Brazilian authorities will be able to keep folks safe during the high-profile sporting event.
INMATES RELEASED
Reduced: Sentencing reform has been a popular battle cry on both the political left and right lately, and all of that talk is about to turn into some action. As early as this month, the federal Bureau of Prisons will grant early release to about 6,000 inmates. It's the largest mass release in the bureau's history and was spurred by the U.S. Sentencing Commission, which lowered maximum sentences for drug offenders last year and made the change retroactive. Sentence reductions are not automatic; federal judges will consider public safety before deciding to reduce an inmate's sentence.
For more information, visit cnn.com