Company: El Faro Skipper Had Plan to Deal With Storm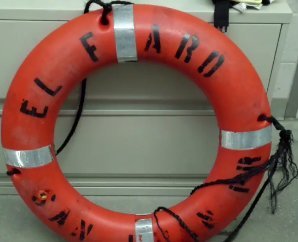 "So, he did not say why the vessel became disabled in terms of the engineering problem of the propulsion system," Greene said.
It was also unknown how much time lapsed between the time the propulsion failed and the time the captain reported the problem to his bosses.
"Based on the evaluating the position of the ship when the captain reported (the propulsion failure), he was in the path of the storm," Greene said.
He said: "I think what is regrettable on this is the fact that the vessel did become disabled in the path of the storm, and that is what (ultimately) led to the tragedy."
Investigators with the National Transportation Safety Board arrived in Jacksonville on Tuesday.
"Our mission is to understand not just what happened, but why it happened, and to issue recommendations and findings to prevent this from happening again," board Vice Chairman Bella Dinh-Zarr told reporters.
"We will be looking at everything. So we leave no stone unturned in our investigation, in our analysis," she said.
Lots of debris, but no survivors so far
The massive search in the Caribbean Sea has yielded a 225-square-mile debris field, but no ship and no survivors.
CNN's Eliott C. McLaughlin accompanied a Coast Guard team on a daylong search flight Monday. The Coast Guard HC-130 covered more than 1,000 square miles of ocean without spotting anything related to the ship, McLaughlin said.
Family members told CNN affiliate WFOX they questioned why the ship sailed into what was then a tropical storm.
The forecast changed significantly the day El Faro left port, CNN meteorologist Brandon Miller said.
That morning, Joaquin was forecast to be a tropical storm with possible paths that would not interfere with El Faro's route. Near midday, the forecast was still for a tropical storm, but moving closer to the ship's path.
At 5 p.m., the forecast showed that Joaquin would reach hurricane strength and that the ship's path would take it straight into the track of the storm.
El Faro left the port of Jacksonville about 8 p.m. Tuesday, according to Marinetraffic.com.
Fedor said the disappearance of a 790-foot ship is unusual.
But "no matter how big the ship is, when you are disabled, and you're at sea, and you're in the middle of a storm ... the size and strength of that storm is just enough to overcome just about anything."
CNN's Holly Yan, Curt Devine, Matthew Rehbein, Mariano Castillo and Kevin Conlon contributed to this report.
For more information, visit cnn.com