The Ensemble Theatre Kicks off its Celebration of Pulitzer Prize-Winning Playwright August Wilson's 10-Play Cycle
Various Artists and Directors Join the Theatre's Staged Readings of All 10 Plays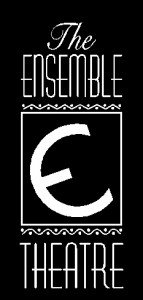 HOUSTON (October 9, 2015) – The Ensemble Theatre and Artistic Director Eileen J. Morris celebrate of Pulitzer Prize-winning playwright August Wilson's 10-play cycle with a series of staged readings beginning October 19, 2015 – July 18, 2016.
August Wilson was born April 27, 1945 in Pittsburgh, Pennsylvania. He became an award winning playwright known for chronicling African American life through his cycle of 10-plays known as the Pittsburgh cycle. Although the plays are not written as a series, some of the characters interconnect between plays to give a since that a communal story is being told from varying perspectives.
"This year August Wilson would have been 70 years old, and this is the 10th year of his transition," says Morris. "I knew Mr. Wilson personally and he was an amazing man whose work has had a profound impact on me professionally and on theatre communities worldwide."
The Ensemble Theatre's celebration of Wilson's work will bring together a variety of artists and directors participating in staged readings of all 10 plays in the order they were written.
All the Staged Readings will be held at The Ensemble Theatre, 3535 Main St. Houston, TX 77002: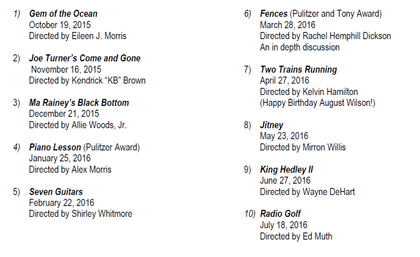 The Ensemble Theatre's August Wilson 10-play cycle staged readings is funded by a grant from the city of Houston through the Houston Arts Alliance.
The Ensemble Theatre was founded in 1976 by the late George Hawkins to preserve African American artistic expression and to enlighten, entertain, and enrich a diverse community. The theatre is known as the only professional theatre in its region dedicated to the production of works portraying the African American experience. In addition to being the oldest and largest professional African-American theatre in the Southwest, it also holds the distinction of being one of the nation's largest African American theatres that owns and operates its facility with an in-house production team. Board President Emeritus Audrey Lawson led the capital campaign for The Ensemble's $4.5 million building renovations that concluded in 1997.
The Ensemble Theatre produces a main stage season of six contemporary and classic works devoted to the portrayal of the African American experience by local and national playwrights and artists. The theatre's Performing Arts Education program provides educational workshops, Artist-in-Residence experiences and live performances for students both off-site and at the theatre. Through its varied programs, The Ensemble Theatre benefits an audience and artistic constituency of approximately 65,000 people annually.
For more information, visit ensemblehouston.com