Congressman Hank Johnson Featured in an Exclusive Interview on AJC Radio's Spotlight on Capitol Hill... Where A Just Cause Puts the Spotlight on Members of Congress and Their Legislation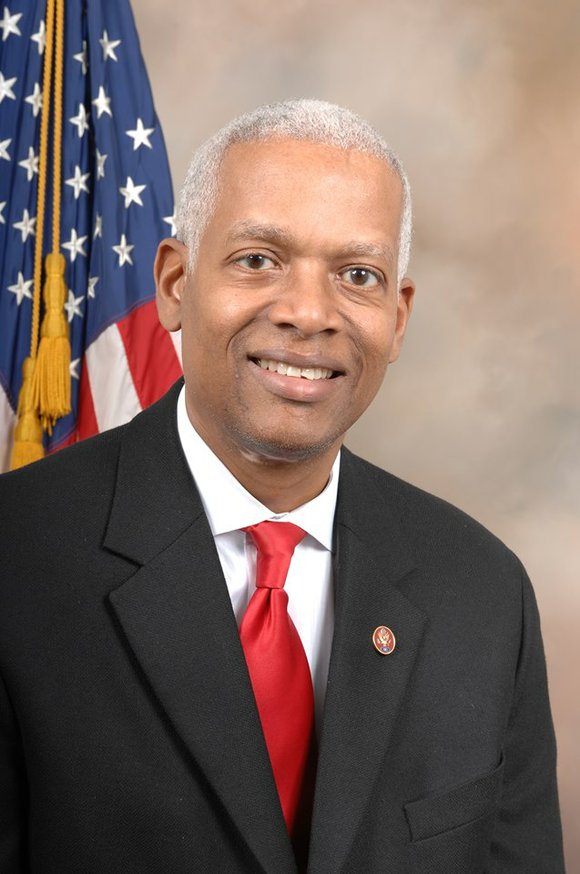 DENVER, CO--(Marketwired - October 13, 2015) - Advocacy group, A Just Cause, announces today that the Thursday, October 15, 2015 segment of AJC Radio's, "Spotlight on Capitol Hill" will be shining the spotlight on Congressman Henry C. "Hank" Johnson Jr. (www.AJCRadio.com, 8-10 PM ET).
"'Spotlight on Capitol Hill' has gained momentum as we continue to bring our listening audience information about the excellent work being done by members of both the House and the Senate. Everyone on Capitol Hill is talking about AJC Radio's segment, Spotlight on Capitol Hill," says Lamont Banks, A Just Cause Executive Director. "We've done spotlights on notable members of the House and Senate including: Congressman Charles Rangel (D - NY), Senator Charles Schumer (D - NY), Congressman Cedric Richmond (D - LA), Congressman Hakeem Jeffries (D - NY), Congresswoman Nancy Pelosi (D - CA), Senator Orrin Hatch (R - UT), Congresswoman Judy Chu (D - CA), Congressman GK Butterfield (D - NC), Senator Patrick Leahy (D - VT), Senator Ted Cruz (R-TX), Congressman Jim Sensenbrenner (R - WI), and Senator Mike Lee (R - UT). "We do everything within our power to share as much information as possible about the members of Congress, granted we may not have the opportunity to always bring our listeners a live one-on-one interview," adds Banks. "Spotlight on Capital Hills brings a different perspective to the heart of Americans, and illustrates that many of our elected officials are concerned about the future of our country and legislation impacting the American people," concludes Banks.
"This week we have chosen to shine the spotlight on Congressman Hank Johnson of Georgia, who was elected in 2006, in Georgia's Fourth Congressional District in the eastern suburbs of Atlanta," Banks explains. "AJC Radio will recognize his pursuit of Justice, Civil Liberties and Government Accountability," says Banks.
Now in his fifth term, Congressman Hank Johnson has distinguished himself as a substantive, effective lawmaker and a leading national progressive voice. Named one of the most effective Democrats in Congress by a University of Virginia and University of Vanderbilt study, Rep. Johnson has proven his ability to get things done. (http://hankjohnson.house.gov/about-me/full-biography)
According to his post on the Judiciary Committee, Congressman Johnson will continue to support efforts to rid our criminal justice system of discriminatory practices and serve as a check against undue government interference in the daily lives of Americans. He also vows to continue to provide federal and local law enforcement with the resources needed to fight crime effectively and humanely. Congressman Johnson believes: The criminal justice system is ridden with injustice that penalizes minority and poor Americans. Mandatory minimum sentencing is fundamentally unfair. The death penalty is immoral. The government should serve and protect -- not harass or inconvenience -- American citizens. The government should not detain or spy on Americans without a warrant. (http://hankjohnson.house.gov/issue/justice-civil-liberties). We need more people like Hank Johnson who stand for justice in America," declares Banks.
Congressman Johnson has introduced the Effective Death Penalty Appeals Act in 2009, which would ensure that death row inmates have the opportunity to present newly discovered evidence of innocence. He cosponsored the successful Second Chance Act of 2007, which will lower crime rates in communities by increasing the care and aptitude with which the criminal justice system deals with ex-prisoners, probationers, and recidivists. He also cosponsored the Local Law Enforcement Hate Crimes Prevention Act, which passed the House. It enables the federal government to assist local law enforcement with the investigation and prosecution of hate crimes. Notably, Congressman Johnson cosponsored the Emmett Till Unsolved Civil Rights Crime Act, which passed the House. It directed the Department of Justice to open an office for the investigation of unsolved civil rights crimes committed before 1970. He also cosponsored the COPS Improvement Act, which passed the House. It expands the authority of the Attorney General to make grants for public safety and community policing programs. (hankjohnson.house.gov/) "These are examples of legislation supported by Congressman Johnson are right in line with the initiatives of A Just Cause," says Banks.