Lovell's Food For Thought – The More Things Change, The More They Remain the Same
The Health Disparities Breast Cancer Gap in African American Women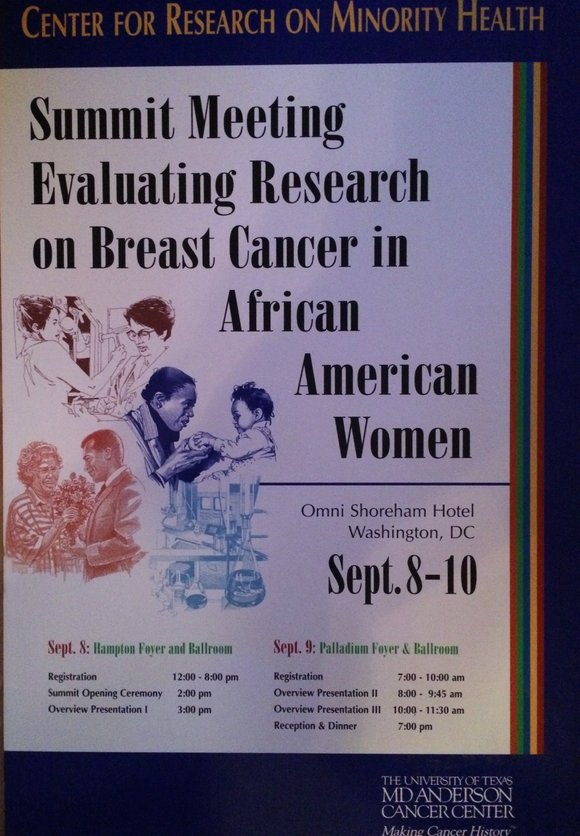 I once got in trouble when I asked an advisory group on breast cancer the following question "How many Black women will need to die from breast cancer before we really do something about?" Well, you can easily guess what my length of tenure was on that advisory group. I seem not to endear myself in the cancer arena when I ask these questions or make statement like "Health Disparities Research has become an industry whose goal is not to pull themselves out of business." Articles that continue to highlight the problem with very few new solutions, keep reminding me that struggle continues. Here we go again with a new article by published in Cancer Epidemiology, Biomarkers & Prevention, a journal of the American Association for Cancer Research. The paper "Racial Disparities in Breast Cancer Diagnosis and Treatment by Hormone Receptor and HER2 Status" by Lu Chen and Christopher Li states again the obvious; "Minority women were more likely to have aggressive subtypes of breast cancer and were more likely to receive non-guideline concordant treatment when compared with non-Hispanic white women.. The reason I say this is the fact that over 15 YEAR AGO the "Summit Meeting on Evaluating Research on Breast Cancer in African American held in September 2000 documented in two publications the same thing with recommendations to address the issue. It seems that we go over and over the same path without impacting on the disparity gap. Drs. Ngina Lythcott, Otis Brawley, Lisa Newman, Marian Johnson Thompson, maybe with this publication someone will listen this time.
Over a year ago I wrote an op ed piece entitled "The Systematic Racism of Breast Cancer ( http://stylemagazine.com/news/2014/apr/22/lovells-food-thought-systematic-racism-breast-canc/). Unfortunately, most of my pieces are what is termed in the newspaper business – evergreen pieces. That is nothing really changes to the article other than you might need to change the date and the numbers, but the bulk of what you have written remains the same. I opened that piece with "it seems the more things change, the more they remain the same. And when it comes to the health care disparities gap this means that no matter how much progress we make, the gap remains the same. The question is how long as a nation are we going to tolerate this? The above article in Cancer Epidemiology, Biomarkers & Prevention makes me ask the same question.
Maybe if I keep bring this up, someone will take the time to read the recommendations brought forth by 132 scientists, policy makers and survivors who attended the Summit Meeting on Evaluating Research on Breast Cancer in African American. Here are the two publications that came out of that summit, "Impact of breast cancer on African American women," which appeared in the American Journal of Public Health in 2002, (http://www.ncbi.nlm.nih.gov/pmc/articles/PMC1447112/) that provided recommendations and a monograph in the journal, Cancer (Cancer. 2003 Jan 1;97; http://www.ncbi.nlm.nih.gov/pubmed/12491483 ) that summarized the summit meeting. Now over a decade later, we're still seeing this gap.
I know that I hear someone say that I am sowing sour grapes. You know, it seems that if you can't do it yourself, you criticize those that are doing. Two of my mentors once said to me, we know how passionate you are about social issues, but people will down play your message if you do not maintain your science. So I will let you decide on whether sowing sour grape.
Given it would be so easy to walk away from all of this, but for one major factor and the reason I left a nice academic appointment at the University of California San Francisco over 35 years ago, the factor that breast cancer runs through my families. My mother died from breast cancer. My aunt is a survivor of breast cancer. My wife's mother and her mother's sisters have died from breast cancer and I have a daughter and granddaughter. So if not me, the question is who will continue to speak out on this issue?
So continue to ignore me and throw stone my way, I will continue to speak out. As Frank Michel, a former editor as the Houston Chronicle once said "It is my hope that this opinion piece might just catch the eye and the mind of someone, a cancer center director or higher up, who may read this column, and who thinks at the very least, it's worth putting up to the rigors of scientific and social inquiry to examine the message as opposed to the messenger."