The 10th Annual Home Safe Home Gala Celebrates AVDA's 35 Years of Service, Raises $324,872 for Victims of Domestic Abuse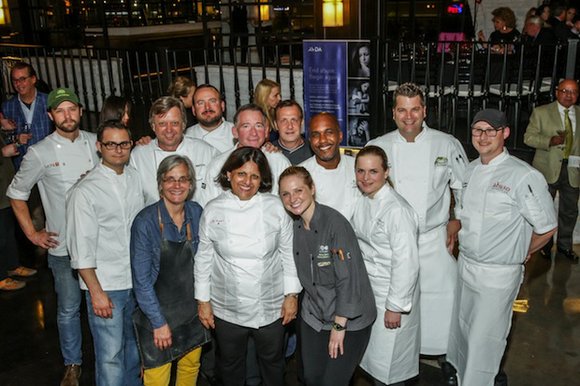 (Houston – October 15, 2015) - Aid to Victims of Domestic Abuse (AVDA), a non-profit that provides life-saving services to victims of abuse and their families, has celebrated its milestone 35th anniversary with the 10th annual Home Safe Home gala on Wednesday, October 14, at The Astorian.
Thanks to generous donations and a live and silent auction featuring an array of sought-after items from fine dining at Houston's top restaurants such as Tony's and Underbelly, to designer jewelry and a luxurious stay in Aspen, Colorado, Home Safe Home gala raised a gross grand total of $324,872. The funds will help AVDA continue to fulfil its mission to end family violence by advocating for the safety and self-determination of victims, promoting accountability for abusers and fostering a community response to abuse.
One of Houston's most anticipated annual fundraising events, this year's gala again featured an exquisite tasting menu served by 12 of Houston's top chefs. The delectable bites were paired with boutique wines by renowned local sommeliers and generously donated by Palm Bay Imports and its affiliate, Esprit du Vin.
Honored at the event was John Eddie Williams, Jr., the second recipient of AVDA's Joseph D. Jamail Award for Justice, for his unparalleled community service and advocacy for those who cannot afford legal representation in Houston. AVDA created the award in 2014 to recognize contributions to providing legal aid to the victims of domestic violence.
In keeping with the "safe home" theme, previous galas were hosted in homes of Houston's top philanthropists. Due to the growing support for AVDA, the 2015 event has outgrown even the largest of private homes and was hosted at The Astorian for the first time. Cal and Hannah McNair served as honorary chairs, joining the co-chairs: Brooke Bentley Gunst, Mary Patton and Claire Cormier Thielke.
Notable guests included Marie Bosarge, Philamena Baird, and Cal and Hannah McNair.
Participating chefs and sommeliers included: Mark Cox- Mark's American Cuisine, Neal Cox- Olivette at The Houstonian, David Denis- Le Mistral, Kaz Edwards- Uchi, Elliott Kelly- RDG + Bar Annie, Brandon Lampert- Corner Table, Kevin Morris- Abuso Catering, Monica Pope- Sparrow, John Sheely-Mockingbird Bistro, Erin Smith- Main Kitchen, Danny Trace- Brennan's of Houston, Kiran Verma- Kiran's, Antonio Gianola – Houston Wine Merchant, Sean Beck - Backstreet Café, Hugo's and Caracol, David Keck – Camerata, and Cathy Nguyen - Republic National Distributing Co.
Since its inception 35 years ago, AVDA has provided advocacy, safety planning, education and legal representation to over 100,000 victims of domestic abuse while also offering intervention services to over 10,000 domestic violence perpetrators. AVDA also works with at-risk teens, offering much needed life skills and prevention pertaining to family violence, dating abuse and conflict resolution to at risk and incarcerated youth.
About AVDA
Aid to Victims of Domestic Abuse (AVDA) has served the Houston community for 35 years to end violence in families by advocating for the safety and self-sufficiency of battered individuals, promoting accountability for those who batter, and fostering a coordinated community response to domestic violence. AVDA provides direct services to families victimized by domestic violence, such as advocacy and legal representation to individuals impacted by violence, battering intervention and services for individuals who commit violence, and educational curriculum to prevent violence in the future.
Visit www.avda-tx.com for more information and connect with us on Facebook.