The Museum of Fine Arts, Houston, Breaks Ground on the Fayez S. Sarofim Campus
80 percent of funding in place for the $450-million capital and endowment project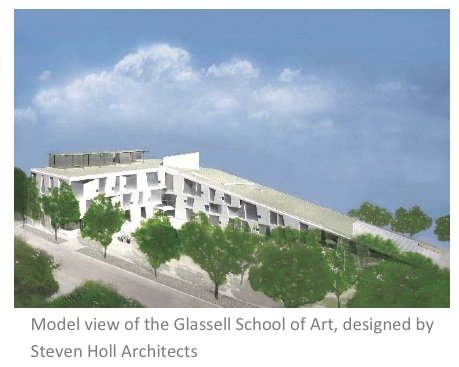 The 80,000-square-foot Glassell School of Art will be built on the two-acre former site of the school's 1979 building and adjacent parking lot. The new, L-shaped structure will define two edges of the new Brown Foundation, Inc. Plaza. With an entrance fronting onto the plaza, the school's roofline will extend downward to a stepped amphitheater with outdoor space for programs and performances, and upward to the walkable, trellised BBVA Compass Roof Garden, which will provide dramatic views of the campus. The garden is named in honor of BBVA Compass, the leading corporate donor of the campaign.
"The BBVA Compass Roof Garden is a stunning addition to Houston's landscape," said BBVA Compass Chairman and CEO Manolo Sánchez. "There is a reason we made this donation to the Museum of Fine Arts, Houston, and it has as much to do with the Museum's commitment to bringing the power of the arts to young people than anything else. This is a cosmopolitan city that must nurture the creativity of its next generation so it can push even further into the future."
The original walls of the 1986 Lillie and Hugh Roy Cullen Sculpture Garden, designed by Isamu Noguchi, will anchor the southern end of the landscaped plaza.
Constructed from precast concrete panels in a rhythm of verticals and slight angles, the structure's design allows for natural light in all 35 studios; an open, broad-stepped central staircase; and multiple exhibition
spaces. In addition, the school will house offices for faculty and Museum staff; corridor galleries for the informal display of art; outdoor sculpture and ceramic spaces; a 75-seat auditorium; an education court for orientation, assembly, and dedicated drop-off for schoolchildren; and a street-level café for students and the public. A dedicated tunnel, for pedestrians, will connect school groups and the public to the Nancy and Rich Kinder Building for modern and contemporary art when that building opens in 2019. A second tunnel, for cars, will connect the 285-space underground parking facility below the school to the 115-space underground facility in the Kinder Building. Completion of the Glassell School is expected in late 2017.
Deborah Nevins & Associates and the Landscape Plan for the Fayez S. Sarofim Campus
Encompassing 14 acres in the heart of Houston's Museum District, the Fayez S. Sarofim Campus will be a major contribution to the city's efforts to improve the pedestrian experience of Houston. With an array of public plazas, reflecting pools, and gardens, as well as improved sidewalks, street lighting, and way- finding, the campus will provide an active setting for the three significant new structures: the Glassell School of Art, the Nancy and Rich Kinder Building, and the Sarah Campbell Blaffer Foundation Center for Conservation.
The MFAH has engaged Deborah Nevins & Associates to unify and animate this campus, one bisected by a main thoroughfare and dotted with a century's worth of architecturally significant structures—by William Ward Watkin, Ludwig Mies van der Rohe, Isamu Noguchi, Carlos Jiménez, Rafael Moneo, and now Steven Holl Architects and Lake|Flato Architects. "Outdoor space in an urban environment is where people can come together and be joyous," said Nevins, whose projects have ranged from small-scale urban gardens to 40-acre parks. "The questions we have to answer are, 'How will you animate the space to bring people in? What experiences can they have? What is the Houston pedestrian experience, and what are the devices to simplify it?' You have to create a space that makes people want to be there."