9 Outrageous Luxury Hotels Coming Soon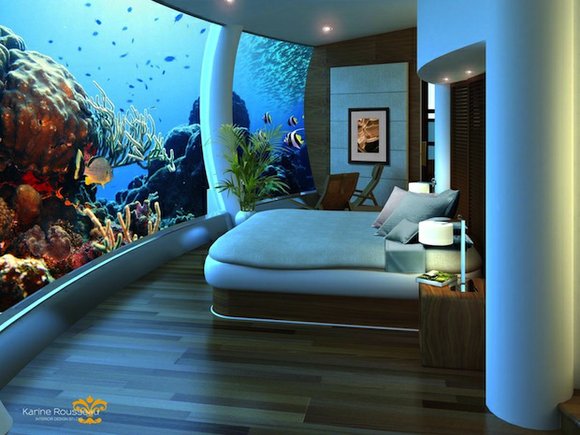 By Mark Johanson
for CNN
(CNN) -- Ever wish you could sleep underwater?
Or perhaps on a bed bobbing over a crystalline sea?
Get ready, because this is the future of the luxury hotel industry.
Though there are dozens of amazing hotel concept designs floating around the Internet, few will ever actually be constructed for various reasons -- usually related to feasibility.
Which makes it all the more exciting that almost all of these incredible luxury projects -- from undersea resorts to cascading ground-scrapers -- are already under construction and due to open in the coming years.
Shimao Wonderland InterContinental (Shanghai, China)
Shimao Wonderland Intercontinental was one of the most talked about hotel designs of the past decade.
After a slight delay in bringing the elaborate plan to fruition, it looks as if this "wonderland" is finally getting off the ground -- or rather, into it.
The lavish resort, carved into the edge of an abandoned quarry outside Shanghai, is now on track for completion in early 2017, according to project director Martin Jochman of JADE + QA studio, with offices in the UK, Hong Kong and Shanghai.
The "ground-scraper" will feature 328 rooms cascading down a rugged cliff face toward a 90-meter-deep lagoon with the lowest levels of the property (including the restaurant and many public areas) located below the water.
Activities capitalizing on the striking setting will include a water-based leisure area and extreme sports center offering everything from bungee jumping to rock climbing.
Poseidon Underwater Resort (Fiji)
A hotel situated entirely underwater may sound like the stuff of fantasy films.
But that's exactly what's brewing off the coast of Fiji where U.S. Submarine Structures is engineering the world's first underwater resort.
In addition to 24 suites, the property will contain a library, spa, bar, restaurant and event space -- all with views out over a coral-filled lagoon teeming with fish.
Developer L. Bruce Jones says guests will have access to four Triton submersibles and "will be able to learn how to pilot them" to the ocean's depths.
First slated to grace the ocean floor in 2008, Poseidon remains very much a work in progress.
However, Jones says he believes Poseidon could open in about two years.
Keemala Resort (Phuket, Thailand)
The Ewok Village of "Star Wars" will have its real-life match in Thailand's forthcoming Keemala Resort, a tropical space of thatched huts, treehouse pools and terraced herb gardens tucked into a rainforest along the Andaman Sea.
Set to open its doors on the island of Phuket before the end of this year, the adults-only wellness property invites guests to celebrate the culture of four fictional tribes as they wander from the holistic spa to the yoga pavilion or meditation rooms.
Cooking and martial arts classes, scuba diving and private yacht charters round out the long list of luxe offerings.
Lofoten Opera Hotel (Norway)
A sleek, snake-shaped architectural marvel will soon slither along a hillside in northern Norway offering spectacular views over the Lofoten Islands.