NYPD Officer Fatally Shot in the Head While Chasing Robbery Suspect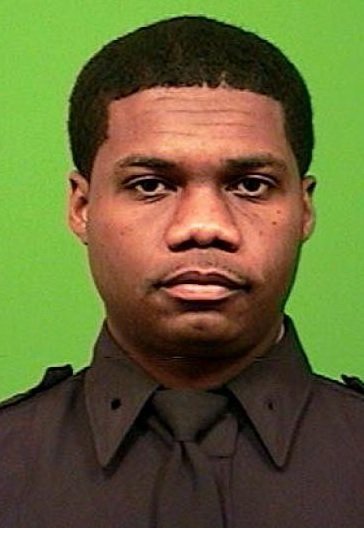 By Faith Karimi and Rob Frehse
CNN
NEW YORK (CNN) -- A police officer died after he was shot in the head while chasing a robbery suspect in New York, authorities said.
Randolph Holder was shot Tuesday night while responding to reports of a gunman in East Harlem, Police Commissioner William J. Bratton said.
He died a few hours later -- making him the fourth officer killed in the line of duty in the city in 11 months, according to Bratton.
Partners pursued gunman
The incident started following a report of an armed robbery.
"Responding officers were told by a victim that his bike had been stolen at gunpoint," Bratton said.
Holder, 33, and his partner were in plainclothes when they saw a suspect riding a bike on a pedestrian overpass.
The pair, part of a unit that works in the city's housing developments, pursued the "suspects" and exchanged gunfire with them, authorities said.
Son, grandson of police officers
Gunfire hit Holder in the head, and he was taken to a local hospital, where he died. The native of Guyana was the son and grandson of police officers.
"Three generations of police in this family. And now the latest generation served here with us in the New York City Police Department," Bratton said.
" And tonight, he did what every other officer in the NYPD does. When the call comes, he runs toward danger. It's the last time he will respond to that call."
'Our hearts are heavy'
Mayor Bill de Blasio, who addressed the late-night news conference, said the city is in mourning.
"We are fighting to understand the loss of a man who did so much, cared so much, dedicated so much to protecting others," he said.
"An immigrant who wanted to give back to his city and his country. ... In the words of Abraham Lincoln, a man who gave the last full measure of his devotion on behalf of a city he loved."
Holder joined the department in 2010.
The suspect
The suspect was arrested four blocks away, and is in hospital with gunshot wounds to the leg.
He is expected to be released to police custody Wednesday morning, Bratton said.
Police took three other men into custody for questioning on their possible participation.
Fallen officers in NYC
Holder is one of four officers killed in New York City in the past year.
The other three include Brian Moore, who was sitting in an unmarked police car in May with his partner when they saw a man adjusting something in his waistband. When they pulled up behind him to ask, the gunman opened fire and shot Moore. His partner survived the shooting in Queens.
In December, a gunman approached officers Rafael Ramos and Wenjian Liu as they sat in their cars and fatally shot them in the head.
Officer shot in Kentucky
In an unrelated incident, a police officer was shot during a standoff at a home Tuesday night near Prestonsburg, Kentucky. Officer Adam Dixon suffered gunshot wounds to the chest and was hospitalized, but his condition is unknown, CNN affiliate WYMT reported.
A standoff with the suspect was underway at a home early Wednesday, the affiliate reported.
CNN's Rob Frehse reported from New York, and Faith Karimi reported and wrote from Atlanta. CNN's Tina Burnside and Shimon Prokupecz contributed to this report
Formore information, visit cnn.com