Undercover video exposes Hong Kong's illegal ivory trade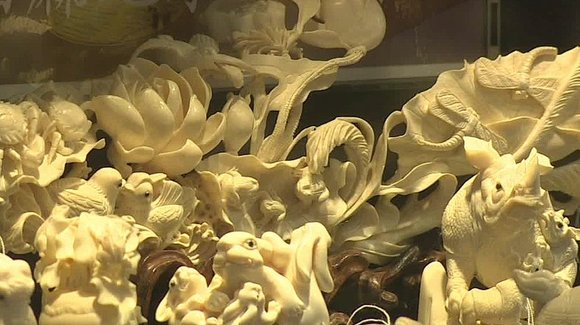 HONG KONG (CNN) -- They sit illuminated in shop windows: gleaming, crescent-shaped elephant tusks on display next to signs proudly advertising the sale of ivory.

It's not an unusual sight in some of Hong Kong's busiest shopping districts. Step inside a store and you can purchase anything from expensive, ornately-carved sculptures, to ivory toothpicks costing the equivalent of US$11. And it's all legal.
Hong Kong has 413 licensed ivory sellers, permitted to deal in material dating before 1989, when a treaty banned the international ivory trade. Ivory cannot be imported or exported, so purchases must stay inside Hong Kong. But a year-long investigation by the conservation group WildAid concluded that some Hong Kong traders appear to be using the legal trade as a cover.
"The legal trade of ivory in Hong Kong is masking illegal trade," said Alex Hofford of WildAid Hong Kong.

Several hours of undercover video obtained by WildAid and shared with CNN appear to show ivory traders boasting about just how easy it is to break the rules.
"I can buy smuggled ivory any time, but do you dare to receive them?" says one trader caught on camera. "If you dare, then I will send them. I will send them to you from Africa," he continues.
African Supply, Chinese Demand
Africa is struggling with an epidemic of illegal ivory poaching. Hunters kill tens of thousands of wild elephants every year for their tusks. Activists warn that at the current rate of killing, the wild African elephant could be extinct within a generation.
Much of the demand is coming from mainland China, where ivory is still seen by some consumers as a luxury item that connotes wealth.
In a speech to be broadcast on Chinese state television, Britain's Prince William makes a plea to the Chinese public to stop buying ivory products and those made from other endangered species.
"Let us not tell our children the sad tale of how we watched as the last elephants, rhinos and tigers died out, but the inspiring story of how we turned the tide and preserved them for all humanity," he says.
Subsisting Stock
In WildAid's footage, the anti-ivory activists pose as customers from mainland China at three different Hong Kong ivory shops. Grainy hidden camera video shows backroom workshops packed with everything from raw ivory to boxes of ivory beads and bangles. Elephant tusks lie piled on the floor. Men using dental drills carve fresh statues for sale in shops.
Hong Kong's traders are only required to register their ivory holdings annually by weight; the government does not provided licenses by piece.
In the undercover video, one trader explains just how easy it is to exploit this system. When he sells one item, he claims he only needs to substitute a new one made from illegal material.
"The government has no idea how to regulate this," he says, though he insists all his stock is legal.
International Smuggling
The import and export of ivory across international borders is banned. But the domestic sale of pre-1989 ivory is legal.