Undercover video exposes Hong Kong's illegal ivory trade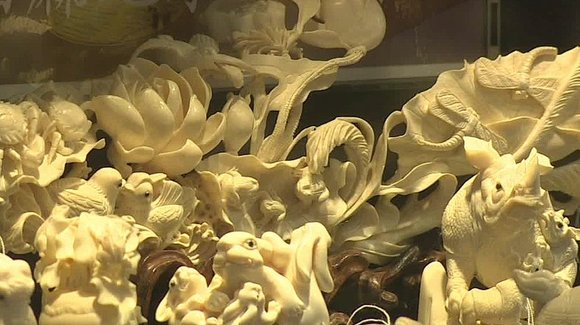 However, wildlife activists question whether there is enough domestic demand in Hong Kong to support hundreds of ivory traders.
They point to a recent survey by Hong Kong University, in which 91% of respondents said they did not own an ivory product. That fact has one Hong Kong legislator asking who her city's ivory traders are really targeting.
"When we go to the shops we see advertisements written in English, Spanish, simplified Chinese. They target customers who are tourists," said local lawmaker Elizabeth Quat.
"If we understand the law, tourists who buy ivory in Hong Kong cannot take [it] out of Hong Kong," Quat added. "That means they smuggle."
In the hidden camera footage released by WildAid, an unidentified ivory trader offers to hand money back if he cannot successfully deliver a shipment of "African horns" across the border to China. African horns refers to those of the rhino, another endangered species that is illegal to trade.
"If the horn gets seized by customs, I will return the money to the supplier," he says. "If you want to get your hands on this, start from 100 kilograms. Don't smuggle too much."
Government Action
At a summit in the U.S. last month, President Barack Obama and his Chinese counterpart Xi Jinping announced plans to stop the import of ivory as hunting trophies. They also pledged to take "significant and timely steps" to halt the domestic commercial trade of ivory.
In an email to CNN, the Hong Kong government defended its actions at combating the illegal trade of ivory.
"Vigorous enforcement action is maintained and smugglings of ivory have been detected at various control points," wrote the Agriculture, Fisheries and Conservation Department, or AFCD.
The department said authorities intercepted 16.7 tons of illegal ivory over the last three years. It also announced plans to conduct a "comprehensive stock check" of all licensed ivory, along with surprise inspections of shops and the introduction of "tamper-proof holograms" and photographic records to better track pre-1989 ivory.
But Quat is lobbying the Hong Kong government to go one step further.
"I am asking the Hong Kong government to consider a domestic ban of ivory sale in Hong Kong," she told CNN. "If we can stop the selling in Hong Kong, then we can cut off the demand side. When we can stop the buying, we can stop the killing too."
Despite mounting pressure, Quat predicts it would take at least a year before a draft of a domestic ivory ban could be submitted before Hong Kong's legislative council.
That is precious time for Africa's dwindling elephant population.
For more information go to http://www.cnn.com