The Blue Water Soiree: Go Blue For Clean Water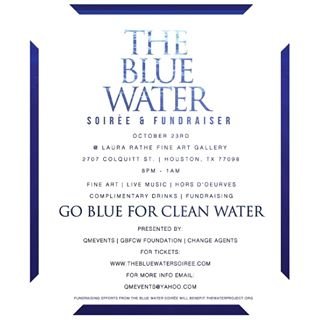 Every once in a while there comes a time when we are reminded of just how fortunate we are to have the necessary essentials in life. On Friday, October 23rd the Change Agents Houston & QM Events will provide that moment when the 3rd Annual Blue Water Soiree fundraiser returns this year at the illustrious Laura Rathe Fine Art Gallery located in the prominent Upper Kirby area at 2707 Colquitt St. The multi-level gallery will welcome Houston's taste makers throughout the evening as the event will feature visual works from artist all over the world art as the exclusive event aims to combine fundraising, fine art, and music which will benefit the Go Blue For Clean Water (GBCFW) Foundation. The GBCFW Foundation is dedicated to providing access to clean water, sanitation, and hygiene to those living within underdeveloped communities and helps fund the Water Project which ensures that the basic need of clean water is provided to the nearly one billion people in need. The Water Project is currently digging wells, constructing dams, and maintaining proper sanitation in the communities of Kenya, Rwanda, Sierra Leone, Uganda, Burkina Faso, and have previously provided relief to Haiti, Cameroon, and India. The swanky party with a purpose will welcome guest to go blue for clean water as its mission is to create awareness to the trials of the Sub-Saharan Africa region due to the lack and quality of water.
The Blue Water Soiree is the helping hand that is needed to bring awareness to the social issues affecting the Sub-Saharan communities. Whether a contemporary lover or connoisseur of conceptual art the Blue Water Soiree will engage art enthusiasts for one night only as the talented Tito-Fabian has crafted a custom work of art for the silent auction. Guest will also enjoy delectable hors d'oeuvres prepared by Aprons in Heels Catering and dance the night away to live music. To purchase tickets visit www.thebluewatersoiree.com or to find out more information about the Water Project visit www.thewaterproject.org.