Hon. Jacquie Baly Takes Oath of Office
Willie Grace | 10/22/2015, 12:42 p.m.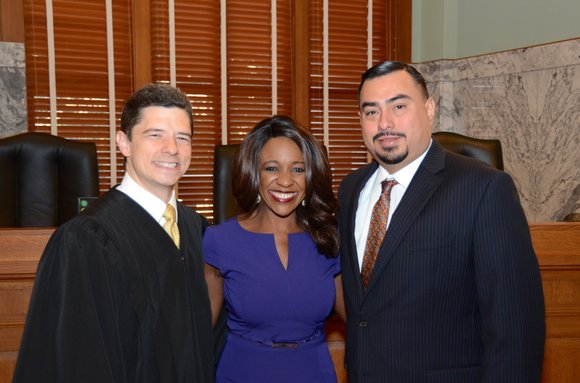 Hon. Jacquie Baly was recently sworn-in to office for Texas Governor Greg Abbott's University Research Initiative Advisory Board. Surrounded by supporters, family and friends, Justice Brett Busby administered her Oath of Office and served as the Investiture's emcee at the historic Harris County 1910 Courthouse. This Advisory Board was created during the last legislative session and was one of Governor Greg Abbott's emergency items. It was also one of gubernatorial candidate Abbott's campaign promises. Jacquie is one of 9 Board members. Other Board members are from Dallas, Corpus Christi and various parts of the state.
Governor Greg Abbott believes this Initiative will advance the state's higher education system to unprecedented levels and "fuel future growth for generations to come." The goal of the new board is to help public universities lure game-changing researchers and result in new companies and jobs involved in commercializing research the universities produce. The Governor added,
"Jacquie's knowledge and experience will be invaluable to the Governor's University Research Initiative Advisory Board."
Jacquie Baly (Sugar Land) is president and chief executive officer for BalyProjects and Political Analyst for FOX 26 KRIV and Channel 11 KHOU. She is a former member of the Sugar Land City Council, and former adjunct professor at the University of Houston. She is also the Public Policy Director for the National Association of Women Business Owners Board and PAC Board member of the Houston Contractors Association. Her numerous awards include Channel 13 KTRK Woman of Distinction, United States Junior Chamber of Commerce Outstanding Young American, Texas Executive Women's Woman on the Move and University of Houston Alumni Association's Rising Star award.
All in attendance during this sworn-in: Justice Brett Busby, Harris County Justice Jim Sharp, Brazoria County Commissioner David Linder, Harris County Commissioner Jack Cagle, Fort Bend County Judge Chad Bridges, Pearland Councilman Gary Moore, SMISD Trustee Xavier Herrera.