Pippin: A Musical Inspired By The Circus
Raegan Carey | 10/23/2015, 11:53 a.m.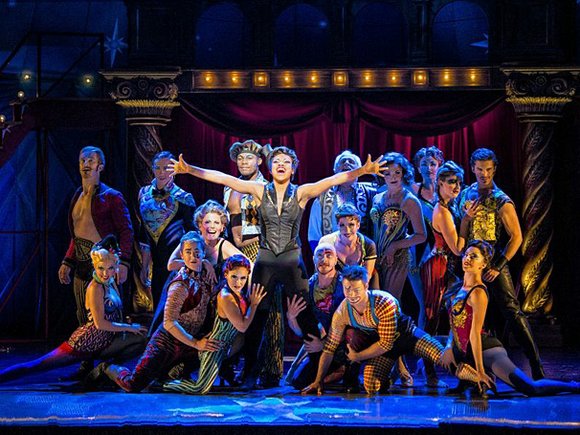 Directed by Tony winner Diane Paulus, Pippin tells the story of a young prince on a journey to find the true purpose of his life. He struggles with questions as "Should he take the throne and serve his court?" like his father the King did or "Should he follow his passion and serve the people?"
The wonderful musical Pippin is a great story of becoming your true self. Pippin features a multi talented cast including Gabrielle McClinton as the Leading Player, Brian Flores as Pippin, Priscilla Lopez as Berthe, Tony winner John Rubinstein as Charles, Sabrina Harper as Fastrada and Bradley Benjamin as Catherine. Standout out performances of the cast was Leading Actor Gabrielle Mc Clinton (a graduate of Carnegie Melon's School of Drama) she was hugely sensational as the play's narrator. Gabrielle charmed the audience throughout the night and tremendously helped move the story along with her snazzy wit, humor, and strong vocals.
The show was very dynamic to watch. You will be on the edge of your seat, not only is the production filled with several musical hits including "Magic To Do," "Corner of the Sky," "Glory," "No Time at All," "Morning Glow" – my favorite song which was once covered by Michael Jackson. This newly reprised version of Pippin even showcases Bob Fosse style choreography by Chet Walker (Tony nominee)!
So if you are a true fan of dance like I am this show will definitely be a joyous delight to you. If the musical score and the amazing choreography is not enough for you, you will surely be wowed and dazzled by the incredible talented circus performers. The choreography led by Chet Walker from the infamous Les 7 Doigts de la Main circus featured many of the stunts and acrobatics; there are hoop tumblers and few magical disappearing acts that make this fun show a clear ten. This is not just any ordinary musical but a musical inspired by the circus. So expect to see a multitalented ensemble cast that can not only sing and dance but also perform very difficult acrobatics. The only thing missing from this show were the fireworks because it felt just like a celebration by the end of the night!

Plan to go and have some fun, just leave the kids at home- there's too many provocative scenes for kids.
The national tour of Pippin runs in Houston at The Hobby Center on October 20th to October 25th. For more information to see this incredible show visit www.thehobbycenter.org.