Correa Named Sporting News Al Rookie of the Year
Award voted on by American League players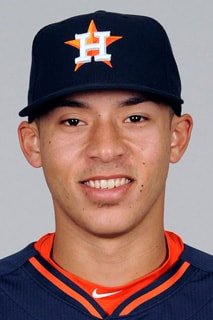 HOUSTON, TX - Houston Astros shortstop Carlos Correa has been named the Sporting News American League Rookie of the Year, an award which is voted on by American League players.
Correa, who debuted on June 8 and was the youngest position player in the Majors this season, hit .279 (108x387) with 22 doubles, 22 home runs, 68 RBI, 14 stolen bases and an .857 OPS in his 99 games in 2015. Among AL rookies, Correa ranked first in home runs, slugging (.512) and OPS, while ranking second in RBI and on-base percentage (.345), and third in batting average (min. 400 PA). With 22 home runs this season, Correa set both the franchise rookie record for home runs and the franchise record for home runs by a shortstop.
His success continued into October, as he became the youngest player in American League history to record a multi-homer game in the postseason, which he did in Game 4 of the ALDS. He also joined Joe DiMaggio (1936) and Mickey Mantle (1952) as just the third player in Major League history age 21 or younger to hit third in the starting lineup of a postseason game.
Correa becomes the ninth player in franchise history to win the Sporting News Rookie of the Year and the first since outfielder Willy Taveras won the National League Award in 2005. In addition to Correa and Taveras, four other Astros players have won the Sporting News NL Rookie Player of the Year: Jeff Bagwell (1991), Jeffrey Leonard (1979), Greg Gross (1974) and Joe Morgan (1965). The Astros have had three pitchers win the NL Rookie Pitcher of the Year in Roy Oswalt (2001), Al Osuna (1991) and Tom Griffin (1969).
This announcement kicks off what could be a busy award season for Correa, as he's a strong candidate for the Players Choice Most Outstanding Rookie of the Year Award, announced on Nov. 9, and the AL Rookie of the Year Award as voted on by the BBWAA, announced on Nov. 16.
For more information, visit astros.com