TSU Tigers in the NFL Honored in Grand Fashion By Alma Mater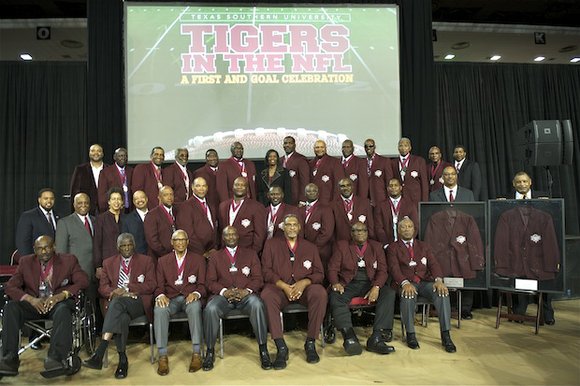 Heads were held high, memories of past athletic fetes were relived, and a youthful spirit was reinvigorated on Friday, October 23, 2015 in the H&PE Arena on Texas Southern University's campus as TSU paid tribute to its former Tigers who had careers in the National Football League.
Tigers in the NFL – A First and Goal Celebration brought back 29 former standout football athletes for TSU's themed Homecoming 2015 - '88 - The Roar is Great'. Each man, honored one-by-one for their contribution both to the NFL and to Texas Southern University, was given a customized Tigers in the NFL blazer and medallion.
"I haven't had an experience like this in over 30 years," said former New York Jets All-Pro offensive lineman and Super bowl champion Winston Hill.
Similar sentiments were shared by Hill's fellow honorees as they were recognized by their alma mater in front of their families, friends, fans, alumni, former teammates and current TSU faculty, staff and students for their contribution to the legacy of TSU athletics.
"Being honored and receiving this jacket and medal means a lot to me because it tells me that all the hard work that I've done throughout high school, college and in the pros is respected, said Mike Holmes, a former San Francisco 49ers safety. "To be honored by TSU touches my heart."
United States Congresswoman Shelia Jackson Lee (D-18th District) presented the honorees with a certificate and a replica of House Resolution 489 commemorating the 88th anniversary of Texas Southern University. Tony Wyllie, TSU alum and current senior vice president of communications for the Washington Redskins, served as the master of ceremony. Michael Strahan, Brett Maxie, and Cortez Hankton – all former TSU football standouts who also were stars in the NFL - were not able to attend due to scheduling conflicts, but sent congratulatory video messages. Ernie Holmes and James Ford were honored posthumously and family members accepted their awards. Earnest Walker, Montina Cooper, Kyle Turner, and Werner Richmond provided musical entertainment for the event.
Honorees served as Grand Marshals for the Grand Tiger Parade on Saturday, October 24 and were recognized during a pre-Homecoming game ceremony where the TSU Tigers battled the Southern University Jaguars, but lost the contest, 40-21 in a rain-soaked game at BBVA Stadium.
TSU Tigers in the NFL honorees included who were in attendance included: Arthur Cox, Fredrick Dean, Kevin Harris, W.K. Hicks, Jack Holmes, James Williams, Greg Briggs, Charlie Frazier, Leroy Mitchell, Andrew Rice, Marvell Simmons, David Thomas, Melvin Baker, Kenny Burrough, Larry Crowe, Willie Ellison, Lloyd Mumphord, Charles Philyaw, James Ford, Ernie Holmes, Oliver Celestin, Darrell Colbert, Mike Holmes, Warren Wells, Raymond Baylor, Joe Burch, Winston Hill, and Nate Johnson.
Share this story online at stylemagazine.com