Barbara Bush to receive the Margaret Alkek Williams Humanitarian Award Featuring a performance by GRAMMY® Award-Winning Artist Faith Hill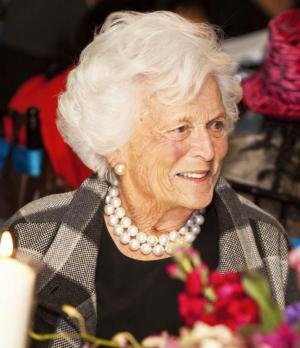 FRIDAY, NOVEMBER 6, 2015
What: The U.S. Fund for UNICEF will host the third annual UNICEF Audrey Hepburn® Society Ball to celebrate former first lady Barbara Bush and to raise critical funds for UNICEF's lifesaving work around the world. Mrs. Bush, the extraordinary philanthropist and a longtime Houston resident, will be presented with the Margaret Alkek Williams Humanitarian Award for her longstanding commitment to furthering education and literacy, and for the tremendous impact she has made on the lives of countless children and their parents.
GRAMMY® Award-Winning Artist Faith Hill will be the featured musical performer for the evening.
Why: Barbara Bush is considered a leading philanthropist committed to improving the lives of children and their families. She supports a wide array of charitable, scientific, literary and educational organizations, including The Barbara Bush Foundation for Family Literacy.
Who: The UNICEF Audrey Hepburn Society Ball is presented by Gallery Furniture. Honorary Chairs are The Honorable and Mrs. Hushang Ansary, The Honorable James A. Baker, III and Susan Garrett Baker, Barbara Taylor Bradford, OBE and Robert Bradford, Karin and Sean Hepburn Ferrer, Linda and Jim McIngvale, Janice and Robert McNair, The Honorable Mica Mosbacher and Sue and Lester Smith. Gala Chairs are Gina and Devinder Bhatia, Molly and Jim Crownover, Penny and Paul B. Loyd, Jr., Beth Madison and Nidhika and Pershant Mehta. Program Chairs are Leela Krishnamurthy and Sujata Murthy. After Party Chairs are Holly and Austin Alvis, Pierce Bush and Rachel and Sebastien Solar.
When: Friday, November 6, 2015
5:30 PM: MEDIA CALL TIME
6:00 PM: Red Carpet Begins
7:00 PM: Red Carpet Closes
Where: Hilton Americas Hotel
1600 Lamar Street | Houston, TX 77010
Additional information about The UNICEF Audrey Hepburn Society Ball can be found at http://www.unicefahsb.org/.
About UNICEF
The United Nations Children's Fund (UNICEF) works in 190 countries and territories to put children first. UNICEF has helped save more children's lives than any other humanitarian organization, by providing health care and immunizations, clean water and sanitation, nutrition, education, emergency relief and more. The U.S. Fund for UNICEF supports UNICEF's work through fundraising, advocacy and education in the United States. Together, we are working toward the day when no children die from preventable causes and every child has a safe and healthy childhood. For more information, visit www.unicefusa.org.