NSBE Launches Campaign for Graduation of 10,000 Black Engineers
Annual Goal for the U.S. Is Set for 2025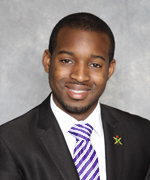 ALEXANDRIA, Va. - Only 19 percent of black 4th graders in the U.S. and 13 percent of the nation's black 8th graders were proficient in math in 2015, according to the National Assessment of Educational Progress. Only 5.5 percent of black 8th graders in the U.S. in 2005 completed calculus five years later, and a mere 1.1 percent of the nation's black college freshmen enrolled in engineering programs in 2010, according to a recent analysis conducted by the National Society of Black Engineers (NSBE). And then there's this distressing fact from the American Society for Engineering Education: the percentage of African Americans among U.S. engineering bachelor's degree recipients has been declining for more than a decade and was only 3.5 percent in 2014.
But the core mission of NSBE, founded 40 years ago, is to increase the number of black engineers. So the Society has decided to do something about the effect of these disparaging statistics on black youth and on the nation's need for talent in the critical fields of science, technology, engineering and math (STEM). The Society has targeted an ambitious goal: to have the U.S. produce 10,000 African-American bachelor's degree recipients in engineering annually, by 2025, up from the current number of 3,620. NSBE will launch its "Be 1 of 10,000" campaign in October 2015, with an outreach to African-American 7th graders and others across the country. NSBE's goal is to have 150,000 7th grade students envision themselves as engineers and pledge to achieve academic excellence in subjects such as algebra, chemistry and physics, which are at the base of an engineering education. The Society will then provide online and other resources to help those students achieve their goals.
"NSBE's leadership is totally committed to this campaign," says NSBE National Chair Neville Green, a senior in chemical engineering at the City University of New York. "As students and professionals in STEM, we know the importance of driving this change, to ensure the future of our communities."
"Be 1 of 10,000" is reaching out to 7th graders because they are scheduled to graduate from four-year colleges in 2025. However, continued success in meeting NSBE's strategic goals will require the Society to increase the STEM proficiency of students who are even closer to the start of the "pipeline" to engineering careers. In addition to the online resources being provided, plans to meet these milestones are expansion of the Society's Summer Engineering Experience for Kids (SEEK) program for students in grades 3 through 8, and encouraging more public school districts to offer calculus in high school.
Providing more academic support to African-American engineering students in college is also part of the plan. This support will include tutoring and mentoring by older student and professional members of NSBE, collaborative study sessions, training in test-taking and other measures. We will also seek support to boost the institutional capacity of colleges of engineering to recruit, educate and graduate more black engineering students.