Chef Leticia Teams with the ADA to Promote Diabetes Awareness
Yolanda Pope | 10/30/2015, 12:25 p.m.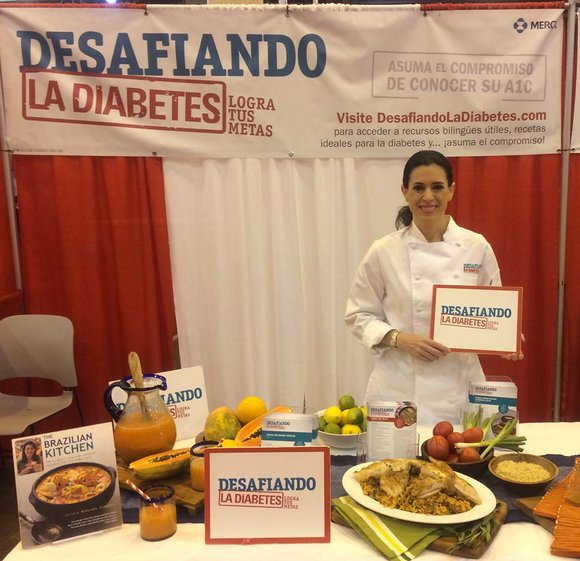 According to The American Diabetes Association more than "30 million Americans have diabetes and most have type 2." Diabetes can affect anyone, from all walks of life; however, many people who suffer from diabetes are in the Hispanic and African American communities. Currently, the ADA states that 13% of African American adults have been diagnosed with diabetes.
Moreover, "Hispanic adults in the United States are nearly twice as likely to be diagnosed with diabetes as non-Hispanic white adults. Nearly 13% of U.S. Hispanic adults are already diagnosed, and it is the fifth leading cause of death within the Hispanic community."
This issue hit home with Chef Leticia Moreinos-Schwartz, who lost her grandfather from complications of Type 2 Diabetes. Therefore, she is extremely passionate about her role with Merk and The ADA to challenge and encourage those affected by this illness to take an active role in managing their health.

In fact, Chef Leticia is traveling around the United States to help promote, educate, and share healthy recipes with all of those individuals who have accepted the challenge of getting their A1C levels under control. The goal is to really empower the community with information so that those affected will talk to their doctors about setting A1C goals not only with medicine, but with diet and exercise.
In her recent appearance on Great Day Houston, she illustrated her talent in the kitchen by preparing a fresh salad, with a homemade dressing, and an orange and papaya smoothie, which is a favorite from her hometown of Rio De Janeiro, Brasil. She also appeared at the Houston NRG expo. Even if one missed the expo, and is interested in taking control of their Type 2 Diabetes, one can take the challenge by going to: http://www.americandiabeteschallenge.com and click the button that reads "Take the Pledge". Also, healthy and diabetic friendly recipes can be found on: http://americasdiabeteschallenge.com/hispanics-and-t2d/.

Chef Leticia's background is in Brazilian cooking, but she also has a BA in Economics, worked in finance and studied journalism. She is the author of two cookbooks, "My Rio De Janeiro" which was published in 2013. Also, "The Brazilian Kitchen" her first book, which she graciously signed and gifted several copies to some of the readers of Houston Style Magazine, during the Sugar Land Wine and Food Fair in April of 2012. If you would like to keep up to date with Chef Moreinos-Schwartz, please visit her website: http://www.chefleticia.com/chef-leticia/.

Thank you for reading, you can follow me on Twitter: @YPEatingWstyle, and share this article and others by going to www.stylemagazine.com.