Jeb Bush campaign memo calls Marco Rubio 'risky bet,' tells donors not to panic
Willie Grace | 10/30/2015, 10:32 a.m.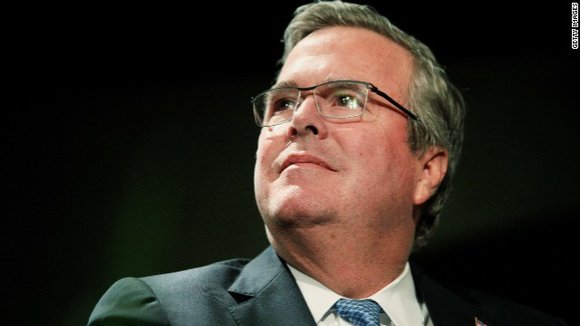 WASHINGTON (CNN) -- Jeb Bush's campaign outlined to supporters in stark terms the biggest weaknesses of primary challenger Marco Rubio, campaign documents from a donor meeting revealed Thursday.
Bush's campaign staff met with top donors in Houston earlier this week to keep them in the fold and delivered a 112-page document detailing how they would win the White House. U.S. News and World Report first reported on the Bush campaign's full game plan Thursday.
Bush has been struggling to find his footing in the Republican field he once led, even before his widely-panned performance at Wednesday's Republican debate. Following a modest fundraising haul in the quarter that ended in September, Bush began slashing expenses throughout his campaign -- the most expansive organization of the Republican contenders.
But fears among Bush supporters have persisted. One Bush donor, quoted in The Washington Post last week, said the Bush campaign was in a "death spiral."
That prompted Bush staff to dedicate a page in the document to that anonymous quote, with a simple message: no more trash-talking in the press.
The campaign staff laid out many of the same arguments they have been making privately to supporters and media for months now. Another, briefer version of the document released to media Monday included notes about Bush's line of attack on Rubio, delivered just two days later at the Republican debate. (Bush hit Rubio for missing Senate votes, but Rubio fired back that Bush was only making an issue out of it because Rubio was seeking the White House.)
But the full presentation to donors included a special message just for them: "Marco Is a Risky Bet."
In a slide clearly targeted at preventing donor defections to Rubio, the campaign argued that Rubio's claim of progress against Clinton, as the possible first woman president, would be "ridiculed by the media" and dredged up problems for Rubio, including the scandal surrounding Rubio's use of a Florida Republican Party credit card for lavish personal expenses.
Coming to Rubio's defense, Beth Myers, who performed vetting for Mitt Romney's search for his vice presidential candidate, said their examination of Rubio turned up no red flags.
"As the senior Romney advisor who handled VP vetting and had access to all the vetting documents, I can say that Senator Rubio 'passed' our vetting and we found nothing that disqualified him from serving as VP," Myers said in a statement.
The Bush camp also presented donors with their plans for a January advertising blitz aimed at helping him in early nominating states. The $10.8 million in ad spending begins January 5 and is divided among New Hampshire (five weeks for $5.6 million,) South Carolina (seven weeks for $2.7 million) and Iowa ($1.4 million for four weeks.) The campaign is also spending $191,000 in Nevada, but only on conservative radio, online and some Hispanic media.
The campaign also offered a candid assessment of their weak performance in Iowa so far: The campaign's goal in Iowa is to win 18.45% of the vote, or 23,765 people. But so far they've only identified 1,281 supporters and collected 5,014 email addresses, despite making 70,381 calls to voters.
For more information go to http://www.cnn.com