Global Summit to Address Root Causes of the Attack on Black Lives
Participants include African, Afro-European, Afro-Latino, Caribbean, and African American Leaders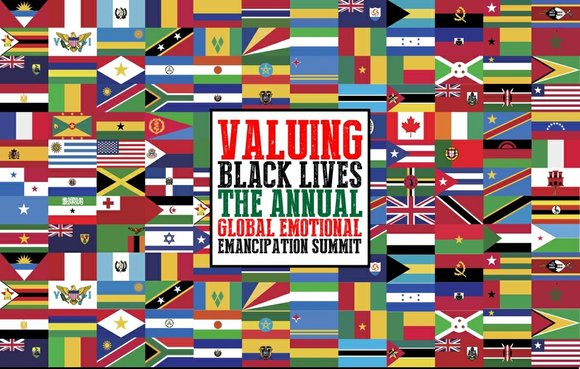 (BLACK PR WIRE) - An Afro-European delegation, the leader of the Caribbean reparations movement, Black Lives Matter activists, and members of the Pan African Congress and the African Union will highlight Valuing Black Lives: The First Annual Global Emotional Emancipation Summit to be presented by Community Healing Network (CHN) and the Association of Black Psychologists (ABPsi) on September 17 and 18, 2015.
The Honorable Karen Bass (D-Ca.), Ranking Member of the U.S. House of Representatives Africa Subcommittee, is hosting the Summit as part of the 45th Annual Legislative Conference of the Congressional Black Caucus Foundation in Washington D.C., at the Walter Washington Convention Center, 12 Noon to 5 PM, September 17, and 9 AM to 5 PM, September 18.
The urgent gathering is bringing together leaders of African ancestry from around the world to counter the attack on Black lives by developing concrete action plans to address the root causes of the attack: the lies of White superiority and Black inferiority. The 2015 Summit theme is "Taking Control of Our Destiny: Confronting the Deadly Mindset at the Root of the Devaluing of Black Lives." The Summit will launch a global conversation about the lies and their origins and effects, devise strategies for dismantling them, and establish international working groups for continuing collaborative action.
Rep. Bass said, "This is a ground-breaking and much-needed Summit that goes to the heart of the challenges faced by people of African ancestry all over the world. I am delighted to host it, and I look forward to working with the Summit leaders to help implement the action plans that will be developed."
Confirmed Summit panelists include: Professor Gisela Arandia, Cuban activist; Sir Professor Hilary Beckles, Chair, CARICOM Reparations Committee; Professor Ikaweba Bunting, The Pan African Congress; Dr. Ramona Edelin, author, We the Village; Momodou Jallow, Vice Chair of the European Network Against Racism (ENAR); Dr. Wade Nobles, Institute for the Advanced Study of Black Family, Life and Culture; Erika Totten, founder and president, Black Lives Matter DMV and To Live Unchained; and Dr. Paul Zeleza, former president, the African Studies Association.
The Valuing Black Lives Summit is part of a multi-faceted set of strategies devised by CHN, which has been working since 2006 to build a global grassroots movement for emotional emancipation--to help Black people overcome, heal from, and overturn the lies of White superiority and Black inferiority. In 2011, CHN forged a collaboration with ABPsi to develop self-help support groups called Emotional Emancipation (EE) Circles, and together, CHN and ABPsi have trained over 250 local EE Circle leaders and planted seeds for EE Circle groups in 15 cities in the United States (including Ferguson, New York City, Baltimore, and New Orleans), as well as in the United Kingdom, Ghana, and Cuba.
"Black people around the world are under siege," said Enola Aird, founder and president of CHN, creator of the Summit, "and in this, the United Nations-designated International Decade for People of African Descent, we must develop a unified global response to address the root causes of the countless injustices against people of African ancestry."