MD Anderson Researcher to Receive Grant for Childhood Cancer Research in Handprint Ceremony
Pediatric cancer patients to "make their mark" by decorating a Hyundai car with paint handprints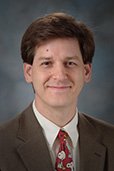 Houston ­– A researcher at The University of Texas MD Anderson Children's Cancer Hospital will be awarded $250,000 to further his cancer fighting efforts in a special handprint ceremony Sept. 3. The ceremony is being held in conjunction with Childhood Cancer Awareness Month. MD Anderson is hosting the ceremony along with Hyundai Hope on Wheels, a nonprofit organization focused on supporting pediatric cancer research.
Hyundai Scholar Patrick Zweidler-McKay, M.D., Ph.D., an associate professor of Pediatrics at MD Anderson Children's Cancer Hospital, will use the grant to explore critical cellular pathways that contribute to blood cancers. His goal is to develop a new class of therapeutics that boost the body's ability to fight acute myelogenous leukemia.
"We are deeply committed to finding new and innovative ways to fight childhood cancer through research," said Zweidler-McKay. "We are grateful to Hyundai for its support, as we race to find cures for childhood cancers."
As part of the event, patients from MD Anderson Children's Cancer Hospital will be invited to make a paint imprint of their hands on a commemorative Hyundai car that honors children and families affected by cancer.
The event will include remarks from MD Anderson President Ron DePinho, M.D. and a check presentation to Zweidler-McKay by Hyundai representatives.
Event Rundown
10:00 a.m. Ceremony begins
Remarks:
Ron DePinho, M.D., president, MD Anderson
Steven Wayne, sales operations manager, South Central Region,
Hyundai Motor America
Check presentation
Remarks:
Patrick Zweidler-McKay, M.D., Ph.D., grant recipient
Alex (parent of a patient)
10:30 a.m. Handprint ceremony with patients
10:45 a.m. Closing remarks
Patrick Zweidler-McKay, M.D., Ph.D.
11a.m. Media availability
Location: MD Anderson Mays Clinic (outside, near the west lobby valet)
1220 Holcombe Blvd., Houston, Texas 77030
Parking: Guests may use the Mays Clinic west lobby valet parking or self-park in the garage under the Mays Clinic. Ticket validation will be provided for both valet and self-parking.Guests may use entrance 5 for self-parking and entrance 7 for valet parking.
About MD Anderson Children's Cancer Hospital
The University of Texas MD Anderson Children's Cancer Hospital exists within MD Anderson in Houston, one of only 44 comprehensive cancer centers designated by the National Cancer Institute. The children's hospital brings hope to families, offering the most advanced childhood cancer treatments while developing and incorporating research-driven therapies into individual care. Unique supportive services, including an accredited K-12 school for patients, are offered. The faculty and staff actively work with our patients and their families and caregivers to provide a supportive, kid-friendly environment.
For more information, visit mdanderson.org