Texas Renaissance Festival is Hiring for the 2015 Season
Hundreds of jobs are opening at TRF Job Faire 9/12 and 9/13 in Todd Mission, Texas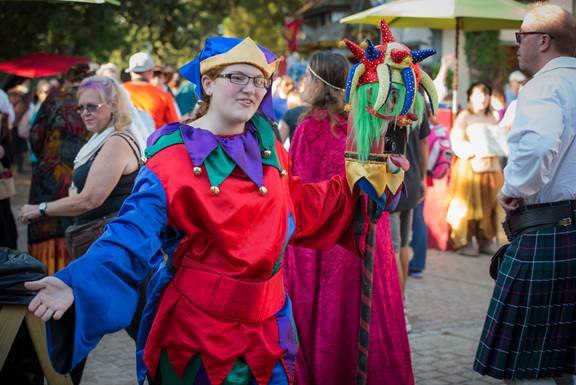 HOUSTON (September 8, 2015) Hear ye! Hear ye! The Texas Renaissance Festival is hiring for its upcoming 41st annual season. Organizers will hold the popular annual Job Faire on festival grounds in Todd Mission, Texas, on Saturday, Sept. 12 and Sunday, Sept. 13, 2015 at 9 a.m. at the Globe Stage.
The Festival is seeking to fill positions in the following areas: hawkers, sales of food and merchandise, food prep, games and rides and more. With over 400 artisans, merchants and shop owners looking to hire additional hands this season, and with the introduction of 65 new shoppes in the new Florence Market, Texas Renaissance Festival anticipates another robust season for people searching for part-time work.
"Texas Renaissance Festival has been a job creator and business incubator for going on 41 years," says General Manager Terre Albert. "This is the time of year when we welcome people who are looking for seasonal and part-time work in a fun, interactive environment for eight weekends in the fall. It's an opportunity to have fun, make new friends and enjoy everything the festival has to offer."
Texas Renaissance Festival will also introduce a new $1,500 scholarship for high schools seniors entering college who work at the festival this season.
More than 4,000 jobs make up the Texas Renaissance Festival, which kicks off Oct. 10 and runs for eight exciting themed weekends through Nov. 29, 2015.
Interested persons are invited to bring a resume, ID, TABC card or any other credentials needed for any type of job. Upon arrival to the festival grounds, follow signs to the designated parking area, then follow signs to the Global Stage. The address is 21778 FM 1774, Todd Mission, Texas 77363.
About Texas Renaissance Festival
The Texas Renaissance Festival is the nation's largest and most acclaimed Renaissance themed event. Established in 1974, the event attracts hundreds of thousands of visitors each year to its 55-acre New Market Village in Todd Mission, Texas. The interactive event features live entertainment, food, fun and professional actors who stay true to character for eight themed weekends from Saturday, Oct. 10 through Nov. 29, 2014. For more information, please visit www.texrenfest.com or follow us on Twitter @texrenfest or like us on Facebook/texrenfest.