6 things Tim Cook is worried about before the iPhone 6S announcement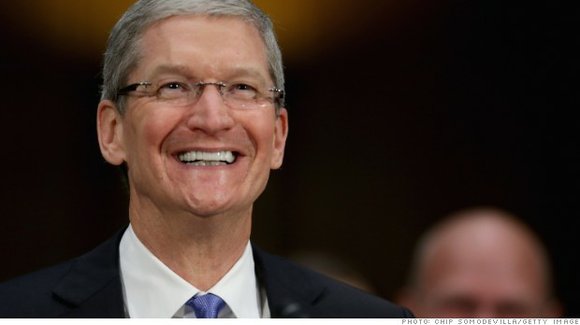 NEW YORK (CNNMoney) -- Apple CEO Tim Cook has a lot to be proud of going into his big announcement Wednesday. He's also got plenty left to prove.
As he likes to do, Cook will probably spout off the big numbers that show why Apple is so dominant: zillions of apps, gajillions of Apple Music minutes streamed, a handful of beautiful new Apple Stores and more happy customers served than McDonald's.
But behind the song and dance of Apple's big upcoming announcements are six looming question marks about Apple's core products.
1) How much longer can demand for iPhones grow?
IPhone demand is off-the charts, and the iPhone 6S' rumored new features like Force Touch and an improved camera seem compelling enough to keep the momentum going.
Those who have predicted the end of the iPhone's stunning growth have been wrong every time (including, ahem, one CNNMoney reporter). But there's reason to believe this historic run of constant growth might be coming to a close.
Apple has entered just about every remaining smartphone market (China? Check. Giant phones? Check.) Meanwhile, growth in the overall smartphone market is flatlining, and the last remaining growth segment is in super-cheap phones for emerging markets (an area Apple has avoided).
Also, U.S. carriers are doing away with two-year contracts, and customers may begin to hold onto their iPhones longer. Apple noted during last quarter's earnings call that it hasn't yet seen upgrade behavior change, but it's watching the market closely.
2) Can Apple TV ever become more than a 'hobby?'
After selling 20 million Apple TVs over seven years, and after customers bought $1 billion worth of programming on their Apple TVs in 2013, Cook said the Apple TV had officially graduated from the "hobby" status Steve Jobs granted it in 2007.
Call it what you want, but it's still a niche product. Just 6% of American adults with an Internet connection use an Apple TV, and only 13% have even expressed interest in giving one a try, according to a recent Forrester Research study. There are cheaper, more powerful competitors on the set-top box market, including the Amazon Fire Stick, the Google Chromecast and the Roku.
To give the Apple TV a boost, Apple is rumored to be unveiling a new version on Wednesday that features games, Siri and an app store. That's just not enough to overcome the competition, according to James McQuivey, digital media analyst at Forrester.
"They're joining the program already in progress thanks to the likes of Amazon and Netflix," he said. "Siri hasn't taken over the phone and it won't take over the TV, either."
3) Can the 'iPad Pro' juice moribund tablet sales?
IPad sales have fallen for six straight quarters. The downward trend for the iPad follows an overall slump in tablets.
That's where the rumored "iPad Pro" could come in. A device that fits between the iPad and a Mac could be a compelling gadget that the iPhone couldn't cannibalize -- and particularly interesting to a segment of customers that Apple has been targeting lately.