Curley Awarded $9 Million Grant to Study Radio Frequency Treatments for Pancreatic and Liver Cancers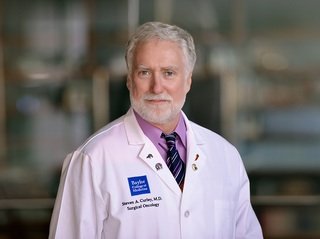 HOUSTON – (Sept. 9, 2015) – Dr. Steven Curley, chief of surgical oncology in the NCI-Designated Comprehensive Dan L. Duncan Cancer Center at Baylor College of Medicine, has been awarded a three-year, $9 million grant from NeoTherma Oncology to advance radiofrequency treatments for pancreatic and liver cancers.
Curley and his research team will study radiofrequency energy to treat cancer alone or in combination with drugs and treatment-enhancing agents such as nanoparticles.
"These types of treatments use a non-invasive radiofrequency field that improves delivery of drugs or targeted therapies to cancer cells," said Curley, professor and Keith Wiess Chair of Surgery and associate director for clinical affairs for the Duncan Cancer Center at Baylor. "It will also be used in the future with nanoparticles that will produce enough heat in the cancer cells to kill them."
NeoTherma Oncology is a medical device therapeutics company dedicated to reimagining the treatment of malignant solid tumors. The company's products are based on an invention of the late John Kanzius using nonionizing radiation (radiofrequency electromagnetic fields) to produce hyperthermia.
"This award and support means we will now have the resources to perform safety and efficacy studies to support a U.S. Food and Drug Administration application and to build a radiofrequency device certified for use to treat human patients with pancreatic and liver cancers and, ultimately, to treat other types of cancer, too," said Curley, also oncology service line chief at the Baylor St. Luke's Medical Center. "This project began in 2005, and with this award we believe we can initiate human clinical trials in 2016."
Curley's research centers on the design, bench testing and clinical study of novel noninvasive radiofrequency treatment devices.
Having developed two U.S. Food and Drug Administration-approved devices for invasive radiofrequency ablation needles to treat unresectable liver cancers, Curley's current studies focus on optimizing a system to be used clinically alone or together with metallic or semiconducting nanoparticles that heat under radiofrequency field induction to kill cancer cells.
His group also has performed complex physiochemical measurements of nanoparticles and has conjugated them to antibodies, peptides and pharmacologic agents to target cancer cells.
For more information, visit www.bcm.edu/news