Harry Reid: Support Iran deal because Cheney doesn't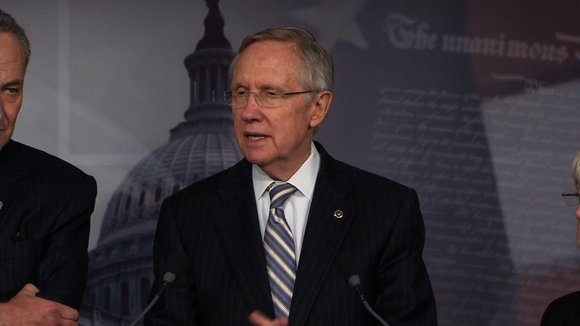 WASHINGTON (CNN) -- Harry Reid says Democrats have one reason to support the Iran deal: Dick Cheney.
In an interview with CNN on Tuesday, the Senate Democratic leader said no one with "any degree of intelligence" should agree with the former vice president, who strongly opposes the agreement.
"I'm sorry, I cannot hold back a smile," Reid said just hours after Cheney delivered a stinging rebuke of the deal. "There are a lot of good reasons for this deal. But the best deal is that Cheney's against it. I mean, think about this: The architect of the worst foreign policy decision in the history of America - to invade Iraq. Look what it has done. Why would anyone with any degree on intelligence agree with him?"
The historic nuclear accord is coming to a head this month as Republican leaders in Congress aim to block the deal. He's working to secure enough Democratic votes to filibuster the GOP effort to scuttle the agreement. But in a speech to the American Enterprise Institute, Cheney tried to keep up the pressure, arguing the "agreement will give Iran the means to launch a nuclear attack on the U.S." and calling the six-nation deal "madness."
Reid said such tough rhetoric will only help his cause.
"The best reason to go along with what President Obama wants is the fact that Cheney doesn't want it."
Reid and Cheney have a long history of trading barbs with one another -- particularly over the war in Iraq and its aftermath. But Reid is now scrambling to lock down enough Democratic support to block a resolution of disapproval on the Iran agreement from landing on Obama's desk.
Obama has the necessary support in the Senate to ultimately protect the deal. But Republicans may still get enough support to overcome Democratic objections and send a disapproval resolution to the president's desk for him to veto. Reid is hoping to block it in the Senate but doesn't yet know if he will succeed.
"We'll see what happens," Reid said.
He plans to discuss the matter at a party lunch Wednesday.
"Right now we know that the deal is not going to go any place because we have more than enough votes to sustain a presidential veto," he said.
As the Senate reconvened on Tuesday after a five-week recess, Senate Majority Leader Mitch McConnell said every senator should be "entitled" to an up-or-down vote.
Asked about that demand, Reid said: "Well, I have to smile when you say that."
"To have the Republicans with a straight face, after they have filibustered hundreds and hundreds of times issues that are of immense consequence to our country now come back and say, 'Well we shouldn't do it here,'" Reid said. "So this is just, in effect, being kind of a poor loser. Because the fact is that how Leader McConnell can come out there without grimacing when he would say something like that is beyond my ability to comprehend."