Modern Home Tours Returns to Houston, September 26th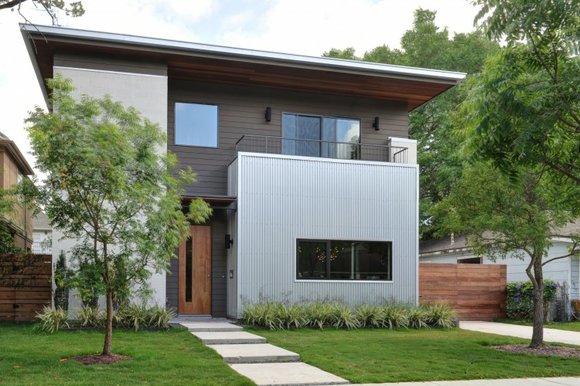 (5) Up in the Garden Oaks neighborhood, visit a home designed by Intexure Architects that demonstrates good design with a practical approach to real life solutions for modern life. A central axis divides the home into two halves separating the master and secondary bedrooms on the second floor and creating a circulation spine throughout the home. Windows are oriented to capture views and bring the exteriors in, including views to the pool which connects the home to the landscape. A custom fabricated stair and bespoke millwork details add warmth and character to the home.
(6) In midtown, see the recent renovation of a stunning loft in the Edge that embodies a minimalist urban aesthetic with colorful artistic interludes, completed by the Wendt Design Group.
(7) Finally, take a look inside another studioMET home, located just north of University Place, that is best described as an introverted courtyard. The entry sequence into the house includes a sky court, wraparound deck, garden, outdoor living space and pool. Massing for the house includes a separate double height volume at the front of the property for a guest suite and an L-shaped configuration for the main house containing the kitchen, dining room and living room in the long bar. Private spaces are amassed in the two-story volume of the short bar.
Participating homes in the 5th Annual Houston Modern Home Tour will open their doors for viewing from 11AM – 5PM on Saturday, September 26th, in the Houston, Texas, area. All are invited to attend. Tickets for the Houston Modern Home Tour are $30 in advance online; $40 on the day of the tour. Kids under 12 are FREE when accompanying their parents. For more details, to see a current roster of homes with details and photos, and to buy tickets for the Houston Modern Home Tour, visit: http://modernhometours.com/event/2015-houston-modern-home-tour
About Modern Home Tours, LLC: Based in Austin, Texas, Modern Home Tours, LLC was founded by James Leasure in 2010 to introduce modern architecture and living to people across the nation. Through fun and informative tours in dozens of cities across the USA and Canada, the group invites people into some of the most exciting examples of modern architecture and design in the nation. With carefully selected architects, neighborhoods and architecture, the Modern Home Tours are unlike anything you've ever seen. Not only will you learn about the cutting edge of home design while on our tours, but you might even get an idea or two for your next home project!
For more information, visit modernhometours.com