The Ensemble Theatre Kicks Off its 2015-2016 OUT at The Ensemble Calendar
A Season of Social Mixers Supported by the theatre's LGBT and Allies Community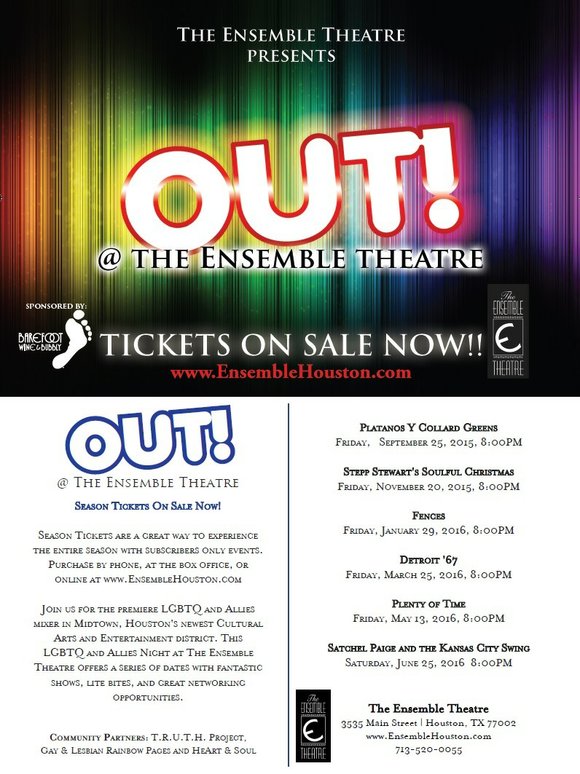 HOUSTON (September 15, 2015) – The Ensemble Theatre kicks off its 2015-2016 OUT At The Ensemble calendar with its first mixer for the contemporary romantic comedy, Platanos Y Collard Greens, Friday, September 25, 2015, 7:00 p.m. at 3535 Main Street, Houston, TX 77002.
OUT at The Ensemble Theatre has become the premiere LGBTQ and Allies Mixer in Midtown, Houston's newest Cultural Arts and Entertainment district. Attendees get to enjoy music and lite bites, with beverages sponsored by Barefoot Wine and Bubbl
OUT at The Ensemble Theatre
Pre-Show Mixer Friday, September 25, 2015
Pre-Show Mixer: 7:00 p.m.
The performance of Platanos Y Collard Greens will begin at 8:00 p.m.
Platanos Y Collard Greens is a thought-provoking, contemporary romantic comedy about two college students, Freeman, an African American man and Angelita, a Latino woman who fall in love. They find themselves caught in the midst of stereotypes, prejudice, and urban myths held by their family and friends. Their budding love beautifully swirls in the context of hip hop, humor, and satire to compel the audience to evaluate some of the pervasive and outrageous viewpoints poetically exposed as misrepresentations of reality.
Cast members include: Atseko Factor, Nina Garcia, Cheryl Boyd, Brandon Morgan, Tai Spikes, Jeff Brown, Epig Dominique, Callina Situka, and Andraes Hunt.
For tickets and information: 713-520-0055 or EnsembleHouston.com
OUT at The Ensemble Theatre celebrates the diversity of the theatre's growing audience and relationships with community outreach partners: Gay & Lesbian Rainbow Pages, T.R.U.T.H. Project, and HeArt & Soul.
Upcoming Pre-Show Mixers for the season include:
Platanos Y Collard Greens, Friday, September 25, 2015, 8:00PM
Stepp Stewart's Soulful Christmas, Friday, November 20, 2015, 8:00PM
Fences, Friday, January 29, 2016, 8:00PM
Detroit '67, Friday, March 25, 2016, 8:00PM
Plenty of Time, Friday, May 13, 2016, 8:00PM
Satchel Paige and the Kansas City Swing, Saturday, June 25, 2016, 8:00PM
The Ensemble Theatre's 2015-2016 Season is sponsored in part by grants from the City of Houston through the Houston Arts Alliance, Texas Commission on the Arts, and the National Endowment for the Arts. United Airlines is the official airline sponsor for The Ensemble Theatre.
The Ensemble Theatre was founded in 1976 by the late George Hawkins to preserve African American artistic expression and to enlighten, entertain, and enrich a diverse community. The theatre is known as the only professional theatre in its region dedicated to the production of works portraying the African American experience. In addition to being the oldest and largest professional African American theatre in the Southwest, it also holds the distinction of being one of the nation's largest African American theatres that owns and operates its facility with an in-house production team. Board President Emeritus Audrey Lawson led the capital campaign for The Ensemble's $4.5 million building renovations that concluded in 1997.
For tickets and information: 713-520-0055 or www.EnsembleHouston.com