Hispanic Heritage Month: A Celebration of Hispanic Houston
Style Magazine Newswire | 9/15/2015, 7:31 p.m. | Updated on 9/15/2015, 7:31 p.m.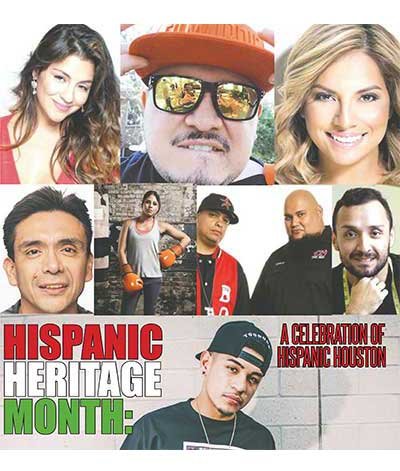 Tony Diaz
When Arizona banned Mexican American Studies, Tony Diaz, El Librotraficante (book smuggler), led writers, community members, and students to organize the Librotraficante Caravan. The caravan smuggled banned books from Houston back into Arizona. Now, he is taking his commitment and passion for education to the community in which he resides in and is running for Aldine School Board.
Diaz is currently the Director of Intercultural Initiative of Lone Star College-North Harris, where he is also a professor of Mexican American Literature and Rhetorical Analysis. This is his first campaign. For more information, visit www.tonydiaz.net
Coco Dominguez
On-air radio talent for Hot 95.7 and Mega 101 and entertainment correspondent for Houston Style Magazine, Coco Dominguez's passion for music and witty personality have definitely made her a household name in the city of Houston. With nearly 14 years of experience in broadcasting, the native Houstonian is recognized and respected nationwide by her peers as well as artists within the music industry.  Of Cuban and Mexican heritage, the bilingual beauty's eye for style and electric personality have made her a much sought-after personality for events ranging from television appearances, to hosting the red carpet, along with music videos and commercials. For more information, visit www.cocodominguez.com
Marco Torres
Houston based photographer, Marco Torres, has documented his city's music and culture since 2006. Inspired by an uncle who was a professional photographer, Marco purchased a used camera from a friend and promptly began photographing concerts in the Houston area, combining his new hobby with his passion for music.
As a Mexican-American, Torres grew up listening exclusively to corridos and cumbias at his parents' home in Houston's East End neighborhood. He credits his high school band director, Mr. Ronald Cole, for introducing him to different types of music such as  jazz, funk, blues. It was at the height of the DJ Screw era that his love for Houston Rap music was born.
After years of sneaking his "professional" camera into music venues, his dream of shooting for a publication came true when The Houston Press provided his first assignment. On June 20th 2009, he covered the "Bun B & Friends" concert at Warehouse Live in Houston. Since then, he has photographed hundreds of performances and his images have been featured in multiple exhibitions, in print and online publications. For more information, visit www.MarcoFromHouston.com
Yvonne Guidry
Yvonne is a Latina Fashion and Beauty Blogger, media personality, TV host, marketing executive, fashion stylist, wife and mother Yvonne aka Spoiled Latina has proved she can do it all. A visionary in her own right, Yvonne has always had dreams of being successful in the entertainment industry. Yvonne is currently the Key Account Manager at Hennessy USA and entertainment reporter for Houston Style Magazine and founder of successful blog SpoiledLatina.com.
Jio'zei Reyes
Born in Hawaii to a Latin mother and Japanese Father, Reyes discovered his passion for fashion at a young age.  As a student at Houston Community College Reyes studied draping, flat pattern drafting, textile design, haute couture dressmaking and garment construction. In addition, he also served as the creative director for two mini collections. Reyes' industry experience has been gained by working in both fashion and theatrical settings, both as a dresser for numerous fashion shows as well as working in stitchery for the Houston Grand Opera. Hi first collection, inspired by the desire to marry the looks of Marie-Antoinette with the rich tradition of the Japanese Samurai, won the prestigious Paris American Academy Scholarship. In his travels to Paris he studied at the fashion houses of Christian Dior, Chanel, Yves- St Laurent, Jean Paul Gaultier, Madame Gres and Nina Ricci. It was at these fashion houses that Reyes learned how to pleat jersey by hand as well as hat making techniques and proper feather work. Now 26, Reyes' accolades include winner of the fashion design category for the "Make it with Wool" competition for 2012-2013 and winner of the "Italian Expo 2014 Fashion Designer" competition.