Houston Author Encourages Young Blacks to Take Up Careers in Ballet, Stresses Exposure to the Fine Arts
Up on My Tippy Toes, children's author Dr. Linda Sturrup's second book, encourages children to reach for the barres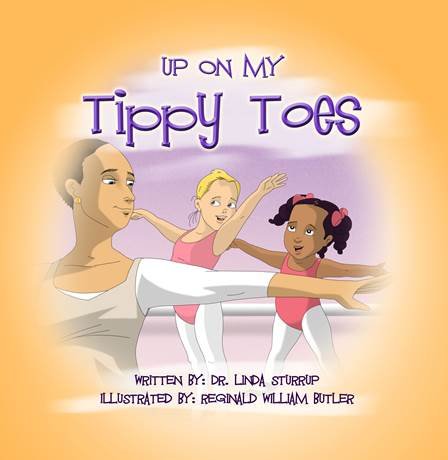 NEW YORK (September 8, 2015)—A new children's book aims to get black children to reach high for training in ballet and the other fine arts. Recently black ballerinas such as Misty Copeland, who was recently named the first black principal dancer with the American Ballet Theatre, have taken center stage. Up on My Tippy Toes, by Dr. Linda Sturrup, aims to encourage parents to expose their children to fine arts to better arm them for success in life.
Sturrup's second book, beautifully illustrated by Reginald William Butler, follows a young black girl, Natalie Jean, as she attends her first dance class—and fails. Will she gain the strength to return?
Resilience in the face of adversity that arises when trying something difficult is a lesson that young people engaged in arts education programs learn at an early age. Arts education also positively affects a child's self-esteem, behavior, academics and attendance; yet budget cuts that have devastated arts programs in public schools across the country have had a disproportional impact on black and Hispanic students. A 2008 National Endowment for the Arts survey found that between 1982 and 2008, arts programs had declined by 5 percent for white children but by 49 percent for black children and 40 percent for Hispanic children.
"The fine arts teach children structure and discipline that cross over to the classroom and can help lead to a lifetime of success in any endeavor," said Sturrup, whose book series follows the exploits of main character Natalie Jean, a six-year-old, based on her own niece. "Often our children are not exposed to the fine arts, however, and miss out on a key opportunity to try something new and rewarding."
While the author took some ballet as a girl, music was her calling. A music teacher spotted talent and encouraged her to take it further. Sturrup went on to play five instruments, including several woodwinds, acoustic guitar, drums, clarinet and piano.
The author's 2014 title, A Sugar Bug on My Tooth, introduced Natalie Jean, who trepidatiously ventured to the dentist for the first time. The book by Sturrup, who practices general dentistry in Houston, Texas, was designed to put youngsters at ease in the dental chair and set them on the path to a lifetime of great oral health.
Future offerings in the series will take up other important topics of concern to young readers.
Up on My Tippy Toes is available in paperback and e-book formats at Amazon.com, Authorhouse.com, Barnesandnoble.com and Booksamillion.com, as well as at local bookstores.