White House Honors "Champions of Change" for Building Bridges between Youth and Law Enforcement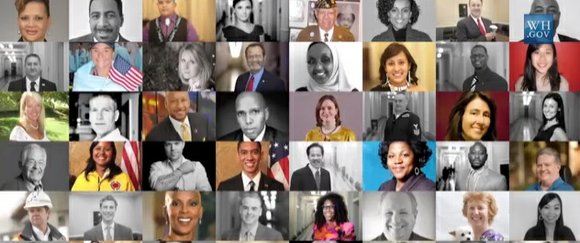 Bill Singleton, Milwaukee, Wisconsin
Bill Singleton works with youth as a police officer in the Office of Community Outreach and Education for the Milwaukee Police Department. He is a member of the team that created and developed the international award-winning Students Talking It Over with Police (STOP) Program, an evidence-based program aimed at cultivating sustainable positive relationships by decreasing initial volatile interactions. In an effort to continue building relationships between police and youth in his community, he partnered with Erica Lofton to help distribute her anti-violence bracelets to residents in the City of Milwaukee.
Erica Lofton, Milwaukee, Wisconsin
Erica Lofton is the 14-year-old founder of Girls in Action, Inc., an organization that promotes leadership among young girls. In response to violence in her community, Erica testified before the Milwaukee Common Council and successfully advocated for the naming of May as Violence Prevention Month. Erica then used money she had earned from a talent show to purchase bracelets that say "I don't commit violence, I speak out against it." She also reached out to local businesses, agencies, and schools to distribute the bracelets while encouraging individuals in her community to pledge their commitment to nonviolence. As a result of these efforts, over 2,000 people have received this bracelet and taken the pledge, including Mayor Tom Barrett, several Milwaukee Alderman, members of the Milwaukee Police Department, church leaders, Milwaukee Public School students, and others.
For more information, visit whitehouse.gov