U.S. Police Chiefs Discussed Implementing Change at Groundbreaking Summit Event in Phoenix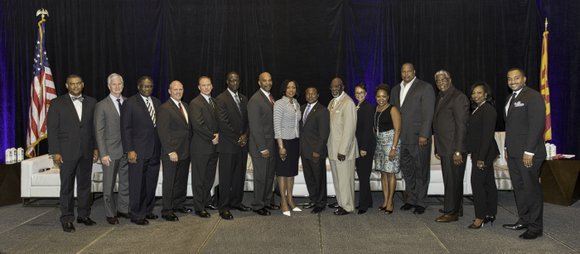 PHOENIX, Ariz. – On September 10, police chiefs from seven major cities convened to share and discuss best practices for community engagement and police professionalism during "The Bridge Summit: Connecting Community Engagement with Police Professionalism." The summit, which occurred on the heels of several officer-involved shootings throughout the U.S., was hosted by the Black Chamber of Arizona, Checkered Flag Run Foundation and College of Security and Criminal Justice at the University of Phoenix.
170 attended the event, including local officials, community leaders and concerned citizens. Phoenix Mayor Greg Stanton encouraged attendees to ensure that the first city gathering to discuss community engagement would not be the last.
Seven police chiefs participated in the panel discussions, including:
· Assistant Chief Perry Tarrant – Seattle, Wash.
· Chief Joseph Yahner - Phoenix, Ariz.
· Chief Robert White - Denver, Colo.
· Chief Jeri Williams – Oxnard, Calif.
· Chief Calvin D. Williams - Cleveland, Ohio
· Deputy Chief Cerelyn Davis – Atlanta, Ga.
Lonnie Lawrence, a retired Miami-Dade Police major and former director of the Miami-Dade Corrections Department also served a panelist. Major General (Ret.) James "Spider" Marks, executive dean for the College of Security and Criminal Justice at the University of Phoenix and CNN military analyst, served as the event's host.
Assistant Chief Perry Tarrant of the Seattle Police Department's Special Operations Bureau discussed his use of community liaisons to help bridge gaps between law enforcement and a community that speaks over 70 languages. Calvin Williams, the City of Cleveland's Chief of Police discussed his implementation of a 'Peacemakers Alliance' to serve as the eyes and ears in the community for his division. Atlanta Police Department's Deputy Chief Cerelyn Davis detailed her development of a citizen's police academy to better inform community leaders of the day-to-day duties of police officers.
Breakout sessions zeroed in on additional tactics that can be used to enhance relationships between the police and the community. Suggestions included more direct communication, more policy transparency, adding communication pathways that include civilian advisory boards, community town hall meetings and more interaction between law enforcement officers and youth in an effort to build trust.
"The Bridge Summit was a successful start to highlighting and documenting the best practices for community engagement that are being implemented across the nation," said Alan (A.P.) Powell, founder of the Checkered Flag Run Foundation. "The event will serve as a blueprint for future summits in the coming months. Click Here For Video Recap
ABOUT THE BRIDGE SUMMIT: The Summit is an exclusive panel of Police Chiefs participating in "The Bridge: Connecting Community Engagement with Police Professionalism." An invitation-only forum seeking solutions and best practices from our nation's top law enforcement professionals. Our goals are to discuss best practices in community engagement that may be used as a new foundation for increased understanding and improved relations. The forum is hosted by the Urban League in conjunction with the University Of Phoenix College Of Security and Criminal Justice, and the Checkered Flag Run Foundation whose mission is "Investing in Education to Ensure Every Student Gets to Cross the Finish Line." University of Phoenix will help with research and compiling the data generated from the forum and will provide insight on possible training and education opportunities supporting our outcomes.
Public Relations/ Media Contact: ThinkZILLA PR Group/ Press@itsthinkzilla.com