TAPS Academy Student Attends Congressional Black Caucus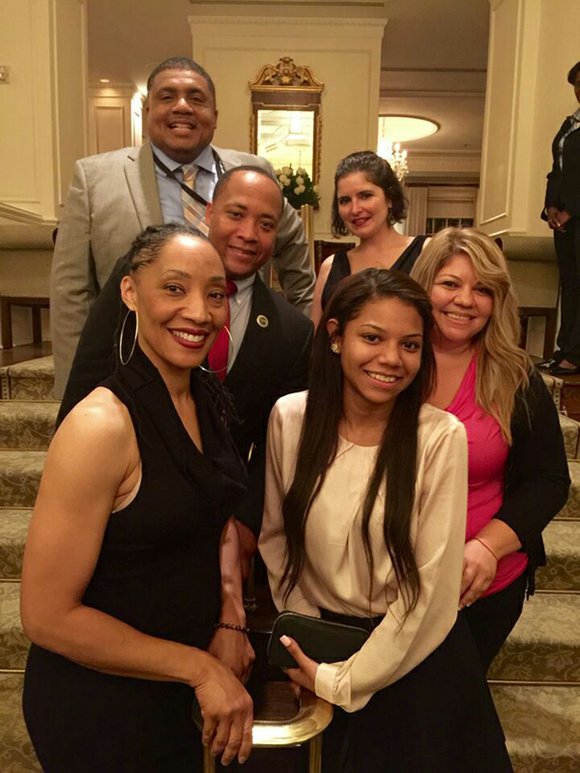 HOUSTON – (Sept. 25, 2015) – Six members of the TAPS Academy team recently traveled to Washington, D.C. to attend the Congressional Black Caucus Foundation's 45th Annual Legislative Conference. The ALC is the premier gathering of African Americans to cultivate engaging policy discussions on issues impacting black communities around the world.
TAPS was invited to present at the yearly event by program advocate, Rep. Sheila Jackson Lee of the 18th Congressional District in Texas. In addition, Houston Police Department's Sgt. Anthony Turner and recent TAPS graduate Stephanie M. participated as panelists in the Criminal Justice Legal Issues Forum: Strengthening Relationships and Bridging Gaps between Law Enforcement and Minority Communities on Sept. 18.
As a speaker on the forum and attendee of the four-day event, Stephanie received an opportunity to experience thought-provoking dialogue and action-oriented solutions to social and economic inequalities.
"Before TAPS, I was constantly fighting, hating and disrespecting police officers and I wasn't successful in school," she said. "After graduating from the TAPS program, I am now passing all of my classes, I have a good job and I have a positive perspective of police officers."
Stephanie's favorite part of her time in our nation's capital was meeting Congresswoman Lee as well as witnessing the changing of the guard at the Tomb of the Unknown Soldier in Arlington National Cemetery. She also toured the White House and attended an exclusive event hosted by Lee where honorees included Attorney General Loretta Lynch, the Rev. Jesse Jackson and Geneva Reed-Veal, mother of Sandra Bland, the Illinois woman who died in July while in police custody.
Stephanie is currently a student at Beechnut Academy, and hopes to return to Waltrip High School in Houston where she is set to graduate in the spring of 2016. She plans to attend University of Texas upon graduation.
TAPS co-founder and Professor of Criminology at University of Houston-Clear Lake, Dr. Everette Penn commented, "The invitation to the Congressional Black Caucus served as an exciting and powerful platform for TAPS to present the effective outcomes and best practice solutions that come from our curriculum. Utilizing dialogue and through mutual respect, bonds are built to empower communities and make our streets a safer place for both civilians and law enforcement."
More information about TAPS Academy can be found at TAPSAcademy.org or at Facebook.com/TAPSAcademy.
About TAPS Academy
TAPS Academy is an 11-week curriculum-based program funded by the U.S. Department of Justice Office of Community Oriented Policing Services (COPS). TAPS Academy's goal of reducing the social distance between at-risk youth and law enforcement is being accomplished through learning, interaction and discussion between at-risk youth and local law enforcement personnel. Through this program, TAPS students and law enforcement personnel gain valuable insight about each other and the issues they face on a daily basis. For more information or to contact TAPS Academy, visit www.TAPSAcademy.org.