The Original "AstroWorld" Model to be Displayed at the Houston Public Library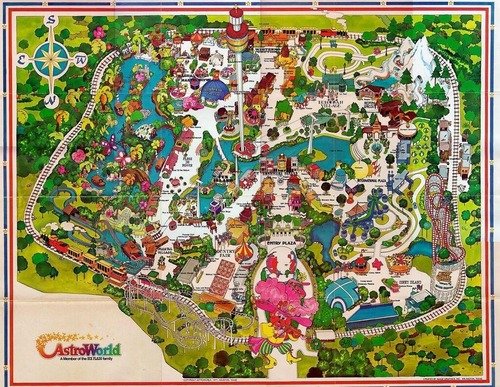 The Houston Public Library will permanently house the original 1967model of the popular Houston theme park, "AstroWorld", inside the historic Julia Ideson Building. An opening reception will be held for the community to view, reminisce and enjoy the exhibit on Wednesday, April 6, 2016 from 6 PM – 8 PM at the Houston Public Library, Central Library, 500 McKinney St., 77002.
Ed Henderson, who hand-crafted the model, will be in attendance to speak about his process, the model, and share his memories. Light refreshments will be available following the program. The reception is free and open to the public. Visit www.houstonlibrary.org for more information on the exhibit.
About the "AstroWorld" Model
Built by Ed Henderson for Judge Roy Hofheinz in 1967 it contains the original layout of the park, including such rides as the Alpine Sleigh Ride and the Black Dragon. The 9ft x 10ft model has been dusted, re-glued and touched up and will be permanently displayed in the Julia Ideson Building, located at 550 McKinney St., 77002, 832-393-1313.
About "AstroWorld"
Opening on June 1, 1968, "AstroWorld" was originally developed and constructed as part of the Astrodomain, the brainchild of local philanthropist and former Houston Mayor Judge Roy Hofheinz, who intended it to complement "The Astrodome." This seasonally-operated theme park was located on approximately 57 acres of land (later expanded to over 75 acres) between Kirby Drive and Fannin Avenue, directly south of Loop 610.
"AstroWorld" was permanently closed by the Six Flags Corporation after its final day of operations on October 30, 2005. It was demolished between October 30, 2005 and the first half of 2006. The area where "AstroWorld" once stood is still grassland and is used for overflow parking during the Houston Livestock Show and Rodeo.
About the Houston Public Library
The Houston Public Library (HPL) operates 35 neighborhood libraries, four HPL Express Libraries, a Central Library, the Houston Metropolitan Research Center, the Clayton Library Center for Genealogical Research, The African American Library at the Gregory School, and the Parent Resource Library located in the Children's Museum of Houston. With more than eight million visits per year in person and online, HPL is committed to excellent customer service and equitable access to information and programs by providing library customers with free use of a diverse collection of printed materials and electronic resources, Internet, laptop and computer use, and a variety of database and reference resources with live assistance online 24/7.
For further information visit the Houston Public Library at www.houstonlibrary.org on Twitter @houstonlibrary or call 832-393-1313.