Broderick Johnson Is His Brother's Keeper
Michael H. Cottman | 4/6/2016, 9:44 a.m.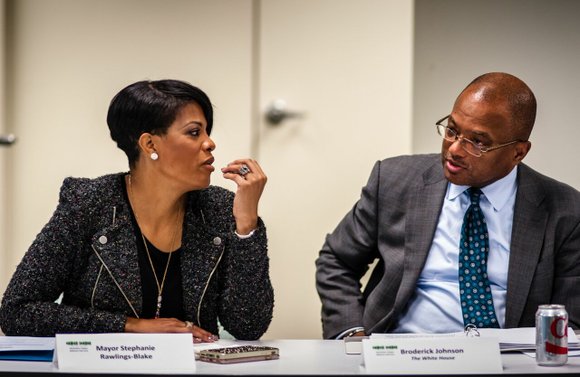 Broderick Johnson sees young black men on America's streets taking long drags off short smokes.
"It's the idleness," said Johnson, a Baltimore native and advisor to President Barack Obama. "No jobs — or summer jobs — for black men. Kids are going to hang in the streets. We have to break this cycle. We have to create jobs and mentorships."
As chair of Obama's My Brother's Keeper Task Force, Johnson manages several socio-economic programs that aim to improve the lives of unemployed young black men. Chief among them is My Brother's Keeper, which Obama launched in February 2014 "to address persistent opportunity gaps faced by boys and young men of color," according to a White House statement. So far, this initiative has prompted private organizations to commit "more than $500 million in grants and in-kind resources and $1 billion in financing through community banks, including investments in safe and effective schools, mentoring programs, juvenile justice reforms, and school redesign."
As Obama's second term winds down, Johnson is working to ensure that empowering young men of color is central to Obama's legacy.
Johnson's early years influence his duties. "Knowing how young black men make mistakes and get into circumstances," Johnson says, "we're trying to give these young men opportunities at a time when Barack Obama is president."
Young men like Malachi Hernandez.
The 17-year-old Boston high school student says My Brother's Keeper changed his life.
Hernandez said he grew up in a poor neighborhood where he often heard the crackle of gunfire. He said he also saw his parents physically fight each other before his father left Hernandez, his mother and four brothers home alone.
"Growing up with domestic violence and then a single parent was very difficult," Hernandez said. "We were low-income. We had a lot of challenges. It wasn't easy."
But today, Hernandez said, My Brother's Keeper helped him intern in the Mayor's Office for Economic Development. He expects to graduate high school and has applied to Northeastern University and American University. He hopes to major in political science or education.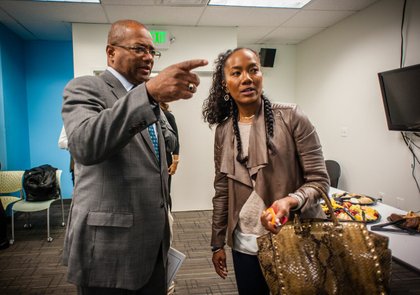 "This is about investing in our young people and empowering them to achieve their dreams," said Mayor Martin Walsh (D – Boston). "It is truly powerful when you can see the results of mentorship and internship opportunities — young boys and men becoming major contributors to society."
But not everyone supports My Brother's Keeper.
More than 1,600 women of color released a June 2014 letter asking why Obama's program left women behind.
"We are profoundly troubled about the exclusion of women and girls of color from this critical undertaking," reads the letter, which was signed by, among others, Mary Francis Berry, Angela Davis, Anita Hill, Rosie Perez, and Alice Walker.
Others believe My Brother's Keeper is flawed because the program "should be open to all at-risk individuals, without regard to skin color or what country someone's ancestor's came from," said Roger Clegg, president of the Center for Equal Opportunity, a think tank dedicated to ethnicity- and sex-neutral public policy. "A racially exclusive program would be unconstitutional, and it would be unfair and divisive."