Wisconsin Primary: 5 Takeaways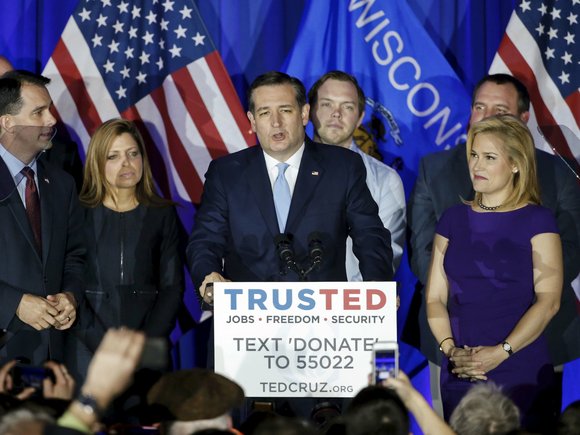 By Eric Bradner
CNN
MILWAUKEE, Wisconsin (CNN) -- Ted Cruz's win over Donald Trump in Wisconsin means a contested GOP convention is not only possible, but may be probable. And Bernie Sanders reminded Hillary Clinton that the Democratic race isn't over yet.
Wisconsin was a must-win for both Cruz and Sanders as the 2016 race shifts to New York, where both front-runners will try to regain their footing in the state they call home. Both did just that -- and they racked up big margins of victory, with Cruz besting Trump by 15 percentage points and Sanders ahead of Clinton by 13 points.
Here are five takeaways from Tuesday's contests:
A contested convention is more likely
For Trump, getting the delegate math to add up to 1,237 before the Republican National Convention in Cleveland was always a tall task.
It just got much more difficult.
Cruz's big Wisconsin win raises the possibility that Trump romps in the Northeast, wins California and still comes up just short, throwing the nominating battle into a contested convention.
Cruz tried again to consolidate the anti-Trump movement, touting in a Milwaukee speech the $2 million he said his campaign has raised Tuesday alone.
He also made a play to unify Republicans, dropping his usual attacks on Trump and instead taking aim at Clinton in his victory speech.
"Either before Cleveland or at the convention in Cleveland, together, we will win a majority of the delegates, and together, we will beat Hillary Clinton in November," Cruz said.
The Texas senator's supporters -- and Republicans allied with anybody whose name isn't Trump -- crowed that Wisconsin marked a turning point in the race, especially as Trump watches delegates slip away in states he's already won because his campaign hasn't mastered the contest's procedural intricacies.
"GOP voters in Wisconsin rejected Donald Trump just like the entire Republican base will do in Cleveland this summer," Katie Packer, a Republican strategist who helms the anti-Trump Our Principles PAC, said in a statement.
Trump has to regroup
The good news for Trump: The next stop is New York, where the billionaire calls home and is up in the polls.
But Wisconsin shows he has some brand maintenance to do.
Voters in Wisconsin just weren't as angry, or frustrated, with Republican leadership as voters in other states. Four in 10 say they're scared about Trump as the nominee. And many said Trump, not the man he has branded "Lyin' Ted," has run the most dishonest campaign.
Coming off perhaps the worst week of his campaign, Trump -- who'd claimed as recently as Tuesday morning that he thought he'd win the Badger State -- fell far short. He split the vote with Cruz of Republicans who said they wanted a candidate who could bring change. He was blown away by those worried about electability.
One especially concerning figure for Trump: He was blown out by 22 percentage points by Cruz in suburban areas and 13 points in urban areas, compared to just 3 points in rural areas. That's bad news as the race moves to the densely-populated east coast.