Houston's One Shining Moment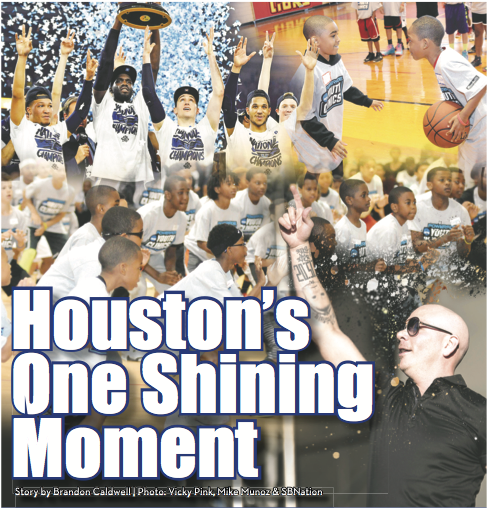 As the confetti fell inside NRG Stadium on Monday night, it concluded the NCAA basketball season. Villanova won a thrilling game with a chaotic finale to win their second national championship over North Carolina. A iconic shot from Villanova forward Kris Jenkins not only sent Villanova into euphoria, it was the perfect cap to a more than blossoming weekend for the city of Houston, college basketball fans, local business and more.
Time has shown that the city is becoming more and more equipped to handle mass spectacle. Since NRG's first major moment in 2004 with Super Bowl XXXVII, the city has hosted two Final Fours, two Regional Finals, the 25th Anniversary of WrestleMania in 2009 and is on the verge of hosting its second Super Bowl in 2017. Just around the downtown area, where Discovery Green was transformed into a festival space from Friday to Sunday, businesses surged in terms of traffic, patrons, alcohol consumed and dollars passed around.
"All those outside dollars coming into the Houston economy then become income for Houston workers and Houston establishments," Barton Smith, professor emeritus of economics at the University of Houston said.
It's not that the city isn't used to hosting large events, or holding big stars when they come into town. This year's Final Four was the first to deal with the improving city infrastructure, the improved road conditions near Hobby Airport and the upswell in downtown hotel space for future visitors and more. As many as five new hotels will be complete by next February, just in time for Super Bowl LI.
The Final Four offered something for everyone in Houston this weekend. Out-of-towner's quizzed one another on what actually merited the term "Tex Mex", music fans who had no real rooting interests in the game were more than comfortable dabbling in the alternative entertainment of the likes of Flo Rida, Maroon 5, Kendrick Lamar, Pitbull, Fall Out Boy and others. The massive crowds of people who lined Discovery Green like soldiers on the beaches of Normandy all wanted a piece of the action, whether it be free or like the views inside NRG on Saturday & Monday night - priceless.
What always makes a Final Four Weekend or any major sporting event weekend successful is economic impact and memorable moments. Houston checked off both boxes from Thursday to Monday. It gave off vibes of a major city that still had a comfortable and welcoming charm to it. Midtown, Downtown, the Galleria, all of the city's major commerce hubs in terms of commercial spending were well represented. Some bars even tripled normal revenue.
For Carolina fans who strolled around the Galleria area on Sunday morning, the faces couldn't help but be overcome with assured pride. The brightness of their team colors prodded and gleamed with the sun. "We're taking it all," one fan said while stopping at Smashburger for a quick bite. Another fan, clad in black with an Oklahoma visor was quizzed on his love for the game and how shocked he was watching eventual champion Villanova decimate his school.
"We'll be back in September," he told the Smashburger employee. His eyes were already fixed towards Houston's next big event that wasn't related to the Texans, Oklahoma playing against the University of Houston.
On Tuesday morning, the erasure of everything Final Four in Houston began. Both IAH and Hobby had removed placards that displayed a road to a makeshift photo booth hours before Monday's title game, believing those who should have made it to Space City had made all of their arrangements in the days prior. The large yellow banner that stretched over NRG's face had slowly begun being stripped away to nothingness. The four logos of the teams who came to Houston in search of immortality were coming down as well.
Villanova boarded a plane in the wee hours of the morning, championship in tow. North Carolina fans headed home still wondering what if, besmirched by one of the more improbable yet amazing shots in the history of college basketball. Yet the main shining moment belonged to Houston, a first date on the eve of something much bigger.