Lovell' Food For Thought - The CRMH - DH CHEER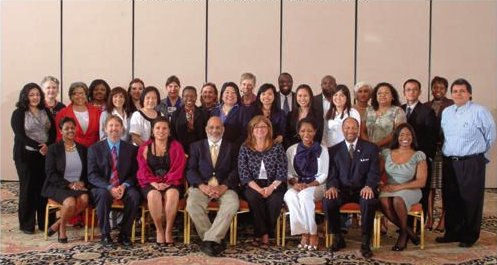 It has been a while since my last Lovell's Food for Thought. A few changes have taken place. As some of you all know, it has been a year since my health event. Life does have a way of refocusing one's priorities, even though a workaholic sometimes need to be hit by a 2x4, as my wife often tells me.
I often say, perception is reality to the one who perceives it whether real or not. A sermon last week got me thinking about this again in relationship to what is taking place in this election year and its relationship to the perception being fanned by our Presidential candidates. Anyway, that is my upcoming Lovell's Food for Thought.
In this one, I would like to again highlight the Center for Research on Minority Health (CRMH)/Dorothy I. Height Center for Health Equity & Evaluation Research (DH-CHEER) and the Health Disparites, Education, Awareness, Research & Training (HDEART) Consortium.
The EXGYN/CRMH/DH CHEER Alumni continue to do some many amazing things. I continue to get feedback that both makes me proud and kind of sad; the feelings many have expressed about the warm and supportive environment of the center that is sorely missed. Although the center did not sit in a totally supportive environment, it was itself an oasis, a kind of Camelot.
I would like to highlight one of those individuals who came through our doors. Dee Jordan was a Cancer Prevention Graduate Summer Fellow who spent her summers in the center working with Dr. Denae King on the Denae's environmental studies. For some reason, Dee had been warned, somewhere along the interview process, that the center was not the place for her. But for those who know Dee, she is one determined woman who figures things our for herself. Dee spent many hours in my office saying that she wanted to be like me, but even better. Well, Dee is on her way. Let me share a post I placed on Linkedin, Facebook and Twitter about her most recent achievement. I say most recent, because there have been many others, including being the first African American elected President of the Graduate Student Board. Can we envision the first African American woman President of the United States. Don't court her out.
"I am not really surprised by the accomplishments of one of my mentees. From a single mom who raised an amazing son, who himself is doing amazing things, to now being the Graduate Student of the Year at Michigan State University (https://lnkd.in/b9Wq7Fp), what's next Dee Jordan? You rock young lady. I am so proud of you and your accomplishments so far, look out NIH. As the words of my mentor continue to ring in my ears - Your greatest contribution to science is the people you leave behind to continue the work. It is truly through your mentees that one has impact."
I also want to again announce that the 14th Annual Disparities in Health in America: Working Toward Social Justice Workshop will be held this year at the University of Houston Downtown (UHD). As you might have noticed, the workshop has moved outsided the of the Texas Medical Center for the first time. Again, the University of Houston Downtown has stepped forward to host the summer workshop, thanks to the efforts of Dr. Heather Goltz, external alumni of the center. As some of you know, University of Houston Downtown now host the Fall Course. With all of this said, I would like to encourage as many of you to attend and bring your students to the workshop.