Ima Hogg Competition Garners Select Pool of Emerging Instrumentalists for Grand Prize
Winner receives $25,000 prize and performs at Jones Hall with Houston Symphony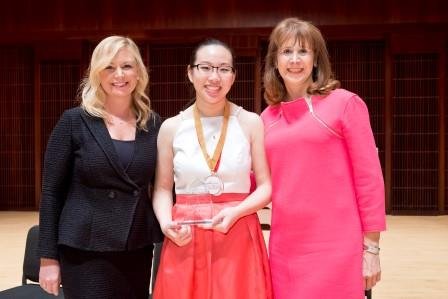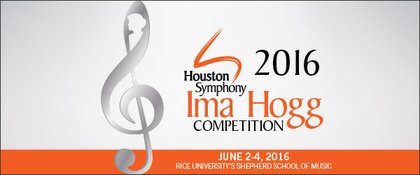 HOUSTON (April 19, 2016) – Semifinalists for the 41st annual Houston Symphony Ima Hogg Competition were announced Tuesday by the Houston Symphony and the Houston Symphony League. Contestants will battle for the top prize and the opportunity to perform on the stage of Jones Hall with the Houston Symphony in an orchestra-run multi-instrument competition. This year's semifinalists represent some of the nation's most cosmopolitan cities – including Houston – and bear exceptional accomplishments.
The Houston Symphony Ima Hogg Competition – a partnership between the Houston Symphony League and the Houston Symphony – is one of the foremost instrumental competitions in the world and was named to honor the memory of Miss Ima Hogg, a co-founder of the Houston Symphony. This prestigious competition is designed to identify outstanding young instrumentalists and support their pursuit of careers in music-making. Often raising their profile in the orchestra world, the competition helps them win significant accolades and receive principal posts with major orchestras.
Chaired by Jo Dee Wright, an active member of the Houston Symphony League and the Underwriting Committee, this year's competition is undoubtedly one of the most competitive in its history. It has attracted an unprecedented caliber of contestants due to changes in eligibility requirements; intended course of study to pursue a musical career; and an expanded Education and Community Engagement residency for the first prize winner that can now be completed within a year. Another change that audiences will notice are the number of judges, up from three to five, who will determine the four finalists performing with the Houston Symphony.
The 10 outstanding semifinalists selected from a pool of nearly 70 candidates ranging from a wide variety of instruments and nationalities are: Sam Boutris (25), Samuel Chan (22), Ron Cohen Mann (24), Luke Hsu (25), Jae Young Kim (21), Christine J. Lee (24), Brian Lin (24), August Ramos (21), Charles Seo (20) and Stephanie Zyzak (22). These musicians have appeared in various national and international competitions and festivals including the Lennox International Young Artist Competition, the Queen Elisabeth Competition, the Tchaikovsky International Competition and the Dresden Music Festival. Additionally, many have given solo and chamber performances at famed venues such as Weill Recital Hall at Carnegie Hall and Alice Tully Hall at Lincoln Center. The competitors' education is not to be underestimated either; semifinalists Chan, Kim, and Lin are currently pursuing degrees at The Julliard School, while Boutris and Cohen Mann are pursuing degrees at the Yale School of Music. Hsu and Zyzak are enrolled at the New England Conservatory; Seo attends The Colburn School and Ramos is pursuing a degree from Rice University's Shepherd School of Music.
On Thursday, June 2, the semifinalists will perform up to two concertos – chosen by them in advance – with a piano accompanist for the judges in hopes of advancing to the finals. During the midday break, moderator Glenn Taylor, founder of SKYBOUND and specialist in career advancement, will lead a panel discussion regarding the importance of entrepreneurial musicianship to create robust music careers in the 21st century. Panelists include Megan Conley, Houston Symphony harpist and 2012 Ima Hogg Competition winner; Matthew Detrick, Co-Founder and Artistic Director of Apollo Chamber Players; Rachel Roberts, Director of Entrepreneurial Musicianship of the New England Conservatory; and Jade Simmons, concert pianist and arts entrepreneur. Admission to the semifinals at Rice University's Stude Concert Hall is free.