Texas Hot Air Balloon Hit Power Lines Before Crash, NTSB Says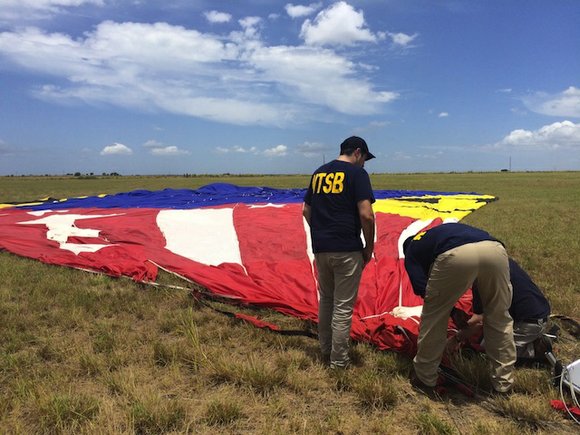 By Liz Flynn, Thom Patterson and Melissa Gray
CNN
KYLE, Texas (CNN) -- Part of the hot air balloon that crashed in Texas hit power lines when it went down, an NTSB spokesman said Sunday after investigators arrived at the accident scene in dusty pastureland south of Austin.
All 16 people aboard the balloon -- 15 passengers and the pilot -- were killed in Saturday's crash.
It's not clear what part of the balloon hit the lines, spokesman Robert Sumwalt said. It's also unclear whether the fire that broke out on the balloon happened before or after the collision, Sumwalt said.
The investigation will look at three main factors to determine the cause of the crash: the balloon, its operators and the environment, Sumwalt said.
He said investigators are "trying to nail down as best we can" whether fog was a factor. Though it was foggy after the accident, Sumwalt said they don't yet know whether there was fog at the time of the crash.
Sixteen victims
Friends of some of the victims identified them Sunday. They include the pilot, Alfred "Skip" Nichols, and newlyweds Matt and Sunday Rowan.
The Rowans got married in February, said Brent Jones, the father of Sunday's 5-year-old son, Jett. "Sunday was a very social person," Jones said. "They have hundreds and hundreds of friends."
Sunday Rowan bought the balloon flight for her husband as a birthday gift last year and it had taken them a while to schedule it, Jones said.
"Sunday was messaging her mom before getting on the balloon. Soon after takeoff, she stopped all communication," he said.
"It's hard, but I want everyone to understand how great our lives were together and how amazing these two people are."
Alan Lirette, the ground crew supervisor for the balloon operator, Heart of Texas Hot Air Balloon Rides, described Nichols as his "best friend, boss and roommate."
Philip Bryant, a balloon pilot, told CNN he knew Nichols.
"I knew him to be a safe, competent pilot," Bryant said. "He has done this for a very long time."
Joe and Tresa Shafer Owens were also killed, said family friend Tricia James, who set up a GoFundMe page to raise money for their funeral.
James told CNN she worked with Tresa Owens for more than two decades at a preschool in Katy, about two hours away from where the balloon trip began.
"They adored their children and grandchildren, and loved nothing more than spending time with them," James wrote on the fundraising site.
"Joe worked hard (to) provide for his family and was always willing to lend an extra hand to anyone in need. Tresa had a long-time career at TigerLand Preschool and made an amazing difference in the lives of the hundreds of children she cared for, their families and also her co-workers and friends.
"So quick to offer up a prayer or a friendly greeting, they will forever be missed by the people who loved them," James wrote.