Mother's Delivery Kit Founder Adepeju Jaiyeoba Creates Lifesaving Supply Pack to Aid Safe Births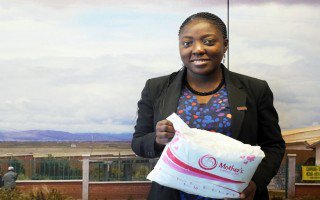 article by Hadassah Egbedi via venturesafrica.com
Adepeju Jaiyeoba is the founder and CEO of Mother's Delivery Kit (MDK), a Lagos-based social enterprise established to promote and enhance safe births, instigate behavioral change and economically empower women in Nigeria.
Her enterprise supplies birthing kits to health centres, hospitals, traditional birth attendants as well as maternal and child health organisations across the country. Prior to the establishment of MDK, the death of a friend from birthing complications in 2011, inspired Jaiyeoba to set up a non-governmental, non-profit organisation called the Brown Button Foundation.
"Her death put a face on every maternal and child death statistic I had heard," Jaiyeoba said on the loss of her friend. "She was educated and brilliant, and she sought out health care services during her pregnancy. Yet she became one of the 13 women who die daily during childbirth in Nigeria. The health care system had failed her and her unborn baby."
Maternal and child mortality has always been an issue in developing countries around the world. Many pregnant women are exposed to several risks and complications because they lack easy access to healthcare facilities, skilled doctors, or even an ambulance or vehicle to transport them when in labour. This is why each year, reducing infant and maternal mortality is a major part of the Millennium Development Goals (MDGs) in many countries.
To read more, go to: This lifesaving delivery kit designed by a Nigerian woman was inspired by the death of a friend – Ventures Africa