Balloon Pilot Didn't See Power Lines, Investigators Think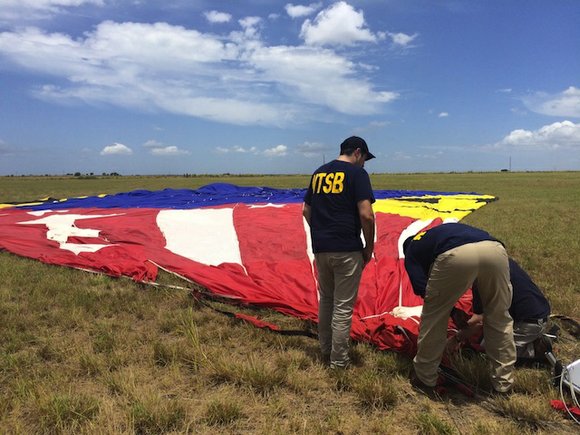 By Ralph Ellis and Khushbu Shah
CNN
(CNN) -- Investigators believe the pilot of the hot air balloon that crashed in Texas last weekend was descending through a break in clouds and didn't see the power lines that turned the craft into a fireball when he crashed into them, a source with knowledge of the investigation confirms to CNN.
The pilot, Alfred "Skip" Nichols, during the crash that killed all 16 people on board, had four drunken driving convictions in Missouri and spent time in prison for drugs, law enforcement officials said.
In addition, Nichols' driver's license had been suspended twice and he was sued over a 2009 balloon landing that a passenger said left her injured, documents show.
Nichols didn't have to tell the FAA about those problems because oversight for balloon pilots is not as stringent as for airline or helicopter pilots, the National Transportation Safety Board said. They are expected to self-report any drug or alcohol driving offenses within 60 days, the FAA says.
Unlike pilots for other aircraft, balloon pilots are not required to obtain an FAA medical certificate to fly, NTSB member Robert Sumwalt said Monday at a news conference.
Those certificates, which can expire after a few years, require pilots to answer whether they've been arrested recently for drunken driving and have alcohol problems, Sumwalt said.
Nichols' drug and DWI convictions happened more than eight years ago.
The Wall Street Journal first reported that Nichols was believed to be trying to descend through the break in clouds.
A definite cause of the crash has not been determined by the National Transportation Safety Board.
Toxicology tests being conducted
Nichols, 49, owned Heart of Texas Hot Air Balloon Rides. He was piloting a balloon that apparently struck power lines near Lockhart on Saturday morning, killing all 15 passengers and Nichols, authorities say.
The cause of the crash has not been determined and there's no indication at this point that alcohol played a role, the NTSB said.
But the NTSB confirmed Tuesday that toxicology tests are conducted on a routine basis in this kind of crash investigation.
A longtime friend of Nichols,' Wendy Bartch of Ballwin, Missouri, told NBC News he battled substance abuse for many years, but got sober and joined a St. Louis church. Bartch declined to speak to CNN.
In a deposition related to the 2009 crash lawsuit, Nichols said he started training with hot air balloons when he was 15 years old. "I decided it was something I wanted to do," he said.
He worked for years in the St. Louis area and owned Air Balloon Sports on July 13, 2009, when he was piloting a balloon with eight passengers that landed in a national forest, according to the lawsuit.
In the deposition, Nichols said the wind died down and he calmly brought the balloon down to the ground in a "textbook landing." He said he told the passengers he was low on propane but didn't say the tanks were empty.