Republicans Warn Trump: Right the Ship or Lose Senate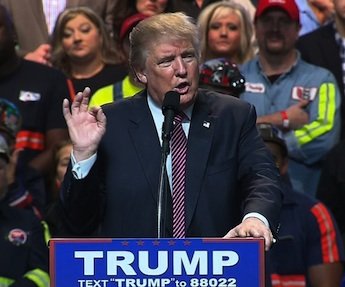 By Manu Raju and Deirdre Walsh
CNN
WASHINGTON (CNN) -- Republican leaders are watching Donald Trump's campaign with growing alarm as they fear a landslide at the top of the ticket could wipe away their hard-fought congressional majority.
For months, top GOP leaders had counseled their candidates to run their own races, separate themselves from the ugly back-and-forth of the presidential contest and focus on the accomplishments Republicans have achieved on Capitol Hill for their home states.
But in interviews with top Republicans in Washington, several privately told CNN that there's not much they can do if Trump loses in each of the battleground states by 10 points or more. And they are pushing Trump hard to right the ship -- namely by focusing exclusively on Hillary Clinton and seizing on her vulnerabilities -- to help avoid an electoral bloodbath in the fall.
"If it's 10 points or more, we are in big trouble," said one top Republican, who asked not to be named to talk candidly about the Senate landscape.
Republicans believe there's still ample time to fix their problems, particularly given Clinton's high negative ratings in many polls. And they are confident in the strength of their Senate GOP incumbents, many of whom are well-funded and have built robust field operations that could help them outperform Trump in their states.
But in an interview at the Republican National Convention last month, Senate Majority Leader Mitch McConnell said flatly, "I don't think we know yet" whether Trump will help or hurt Republicans down-ticket. He said each of the races are "big, well-funded, individual pictures" not necessarily tied to Trump.
"I think we'll have to see where the presidential election ends up," McConnell told CNN. "One of the good things about the Senate is the races are big enough to stand on their own."
Asked if Republicans would keep control of the Senate, McConnell added confidently: "We will."
McCain to Pence: Focus on Clinton
But Senate Republicans also need help from Trump -- namely ensuring he remains competitive until Election Day.
In a private meeting this week at a Phoenix airport, Sen. John McCain of Arizona urged Trump's running mate, Mike Pence, to keep the top of the ticket trained on Clinton -- and not engage in squabbles with other Republicans or distractions like his recent feud with Muslim-American parents whose son was killing while serving in the Iraq War, according to a source familiar with the session. Pence, the source said, agreed.
For Democrats to regain the Senate, they need to pick up four seats if Clinton wins the White House and five if Trump pulls off a victory. And there are ample opportunities for Democrats in blue and swing states -- namely in Pennsylvania, Illinois, Wisconsin, Ohio and New Hampshire.
Other seats on the radar are the ones held by McCain in Arizona, Marco Rubio in Florida and Indiana's Dan Coats, who is vacating his seat.
Democrats are defending just one seat that Republicans stand a serious shot of winning at the moment -- Nevada -- being vacated by Senate Minority Leader Harry Reid. Republicans once were hopeful they had a shot in Colorado, but GOP recruiting failures led to the nomination of conservative Darryl Glenn, who is trailing Democratic Sen. Michael Bennet by double digits in recent polls.