Republicans Warn Trump: Right the Ship or Lose Senate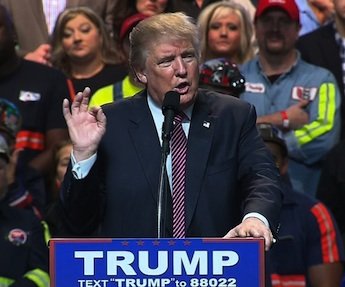 With Trump's standing dropping markedly since the convention, the Democratic strategy is simple: Tie every Republican to their unpopular standard-bearer.
Senate Democrats are so deadset on this strategy that Reid publicly rebuked President Barack Obama for saying at the Democratic National Convention that Trump's message "wasn't particularly Republican, and it sure wasn't conservative."
"I would disagree with the President," Reid told CNN. "The reason we have Donald Trump is because what has happened in the Congress of the United States by the Republicans ... they've created Donald Trump."
To help save the Senate, Republicans are banking on the support of well-funded outside groups, including McConnell's leadership PAC and the network of organizations bankrolled by the Koch brothers, who plan to spend $250 million on their political activities this cycle.
"What we've seen is the Republican candidates we're favoring, that we're supporting, have been very durable," said Mark Holden, senior vice president of Koch Industries.
Senate Dems reel in convention bounce
An NBC/Wall Street Journal poll released Friday shows Democrats with an edge nationally on the question of which party should be in charge of Congress -- 47% of registered voters prefer a Democratic-controlled Congress, with 43% favoring a GOP-controlled one.
In a conference call with reporters on Friday, several Senate Democrats sought to connect GOP senators to Trump's latest comments on national security issues -- and urged them to officially withdraw their support.
Trump had his first big primary win in New Hampshire in January, but a new WBUR poll out this week indicates Clinton has a 15-point lead in the state. And in a clear warning sign for the GOP, the same poll shows Sen. Kelly Ayotte trailing Democratic Gov. Maggie Hassan by 10 points.
While both sides believe the New Hampshire Senate race is much tighter, the Trump effect is putting Ayotte in a bind. The first-term senator has indicated she would support Trump -- but has sought to draw a contrast with him by saying she would not endorse him and criticizing several of his more controversial statements.
Ayotte's New Hampshire colleague, Democratic Sen. Jeanne Shaheen, attacked GOP senators for trying to "have it both ways" in backing the nominee while trying to distance themselves from him.
"This idea that 'I support him but I don't endorse him' -- that's baloney. When you support somebody, you effectively endorse them," Shaheen said on a conference call with reporters Friday.
Earlier this week, Trump called Ayotte "weak" and declined to endorse her. Ayotte responded by saying, "I call it like I see it, and I'm always going to stand up for our military families and what's best for the people of New Hampshire."
GOP officials in the state note its reputation for rewarding independent-minded candidates and argue that the episode is more likely to help Ayotte with voters. But given Trump's appeal with GOP voters in the state, Ayotte can't afford to alienate herself from a crucial voting bloc during a close Senate race.