New Stafford MSD Teachers Bring Real World Experience to the Classroom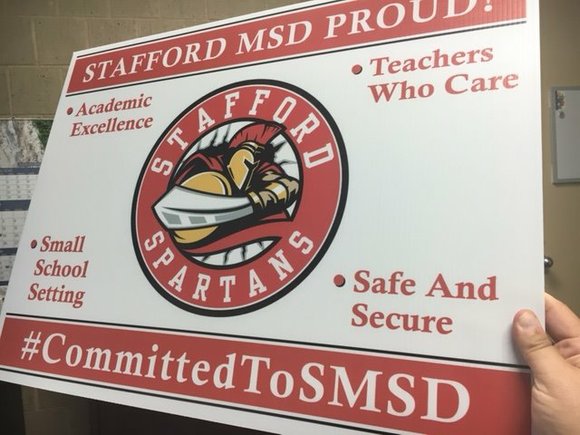 BY STAFFORD MSD COMMUNICATIONS
The Stafford Municipal School District's Mission Statement is to ensure that every student graduates ready for College or a Career, without remediation.
Two of the new teachers at the Stafford College & Career Center, a state-of-the-art component of Stafford High School, are instructors who have spent most of their careers working in the field that they're about to teach this month.
Tawne Blackful is the new Health Sciences Academy Teacher. As a Registered Nurse, she brings 30 years of professional nursing experience, plus teaching experience at the college and high school levels.
"I am very impressed with the Stafford College & Career Center," Blackful said. "We want to make the students aware of the opportunities that await them in the Health Sciences profession. There are a lot of jobs in Health Sciences, and that field continues to grow."
Stafford MSD students currently have opportunities to intern with area hospitals, but Blackful is working with Stafford College & Career Center Director Deborah Nordt to create a program where students could earn a Certified Nurse Assistant (CNA) certification as they graduate from high school.
That program would create partnerships with area nursing homes and hospitals, so students could fulfill the required 40 hours of clinical practice.
"A CNA certification is the basis for health care careers, and it will prepare the students for any of the Health Careers they may choose," said Blackful, who has a Master's in Education from Sam Houston State.
Richard Nevins, a Houston native who played basketball for the University of Texas in the 1970s, initially planned to become a teacher. He decided, instead to earn degrees in Management (from UT) and Accounting (from the University of Houston) and embark upon a business career.
He always wondered, 'what if?'
After nearly 40 years as either a Chief Financial Officer (CFO), Marketing Professional or Certified Public Accountant (CPA), Nevins has decided to combine the best of both worlds.
He will utilize his business experience as Stafford College & Career Center's new Business Marketing Academy Teacher.
"I wanted to make a change and go into an industry where I felt I could make a bigger impact," Nevins said.
Both of the new teachers plan to treat their classrooms as simulations for the real world – a hospital and a board room, respectively.
"I'm going to treat my class like a board meeting," said Nevins, who plans to enhance the school's DECA Chapter, a student business organization. "One of the things that really impressed me about Stafford MSD was the fact that they take Business seriously. It is not simply an Elective at Stafford MSD, but a field of study."
Nevins, an experienced basketball coach, will teach Principles of Business, Marketing, Finance, Sport Management/Marketing and Entrepreneurship. He will also coach the Stafford Middle School Eighth Grade Girls Basketball Team.
Stafford MSD's 2016-17 school year begins on Aug. 22. If you're interested in enrolling in Stafford MSD, call 281-261-9219 or e-mail SMSD Communications Coordinator Michael Sudhalter at msudhalter@staffordmsd.org.
ADDITIONAL INFORMATION ON THE COLLEGE AND CAREER CENTER:
Stafford Municipal School District offers career and technical education programs in Agricultural Science, Arts, A/V and Technology, Automotive, Business, Culinary, Education, Engineering, Health Science, Law and Public Safety, and Manufacturing. Admissions to these programs is based on prerequisite course work and successful completion of the course work. It is the policy of Stafford Municipal School District not to discriminate on the basis of race, color, national origin, sex, handicap, or age in its vocational programs, services or activities required by Title VI of the Civil Rights Act of 1964, as amended; Title IX of the Education Amendments of 1972; and Section 504 of the Rehabilitation Act of 1973, as amended. Stafford Municipal School District will take steps to assure that lack of English language skills will not be a barrier to admissions and participation in all education and vocational programs. For information about your rights or grievance procedures, contact, Theresa Sazedj, Director